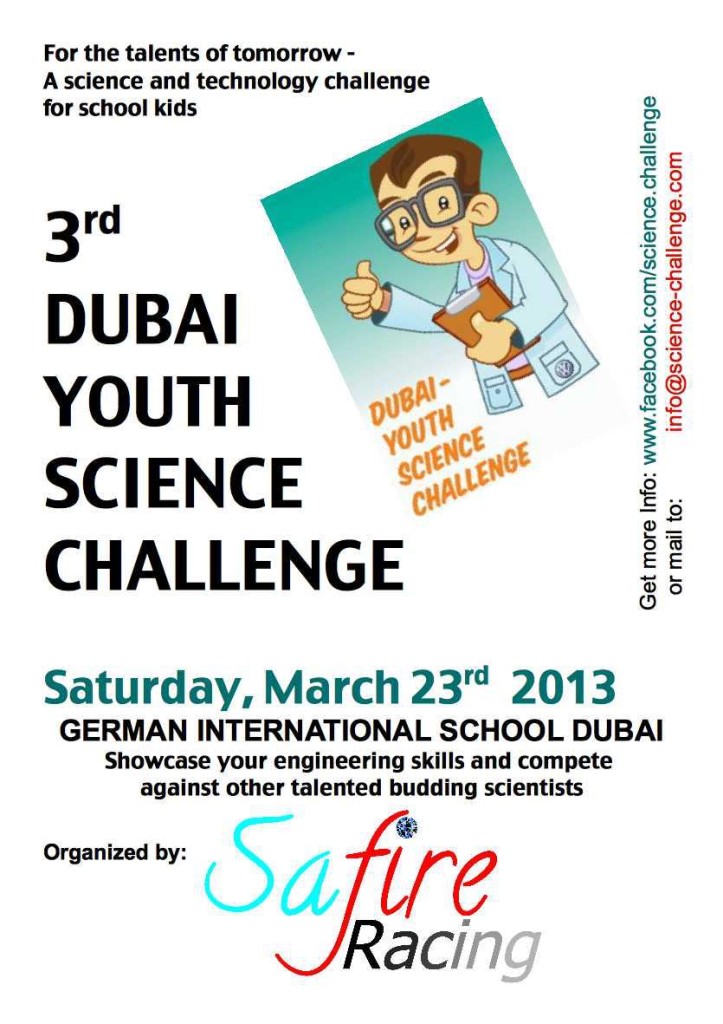 Safire Racing is hosting the 3rd annual Dubai Youth Science Challenge at the German International School at 11 am. Make sure to come check it out and support all of the competing students!
(This live blog is now closed.)
17.27
The team is very proud!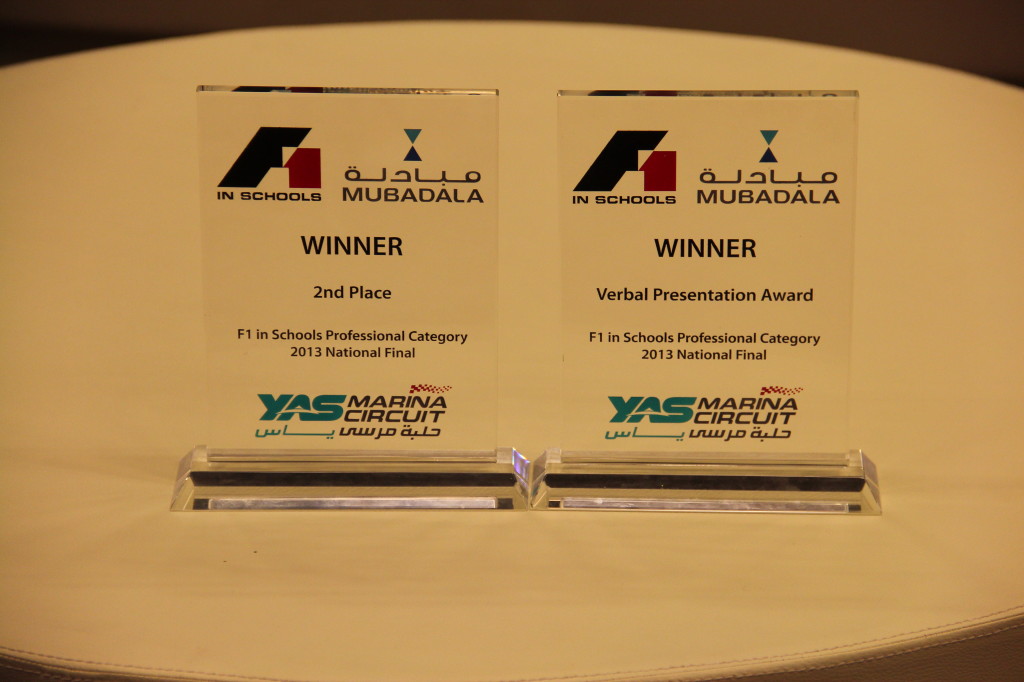 17.21
Due to a technical rule infringement we were not allowed to become National Champions, but despite our 12 point penalty Safire Racing won 2nd Place Overall!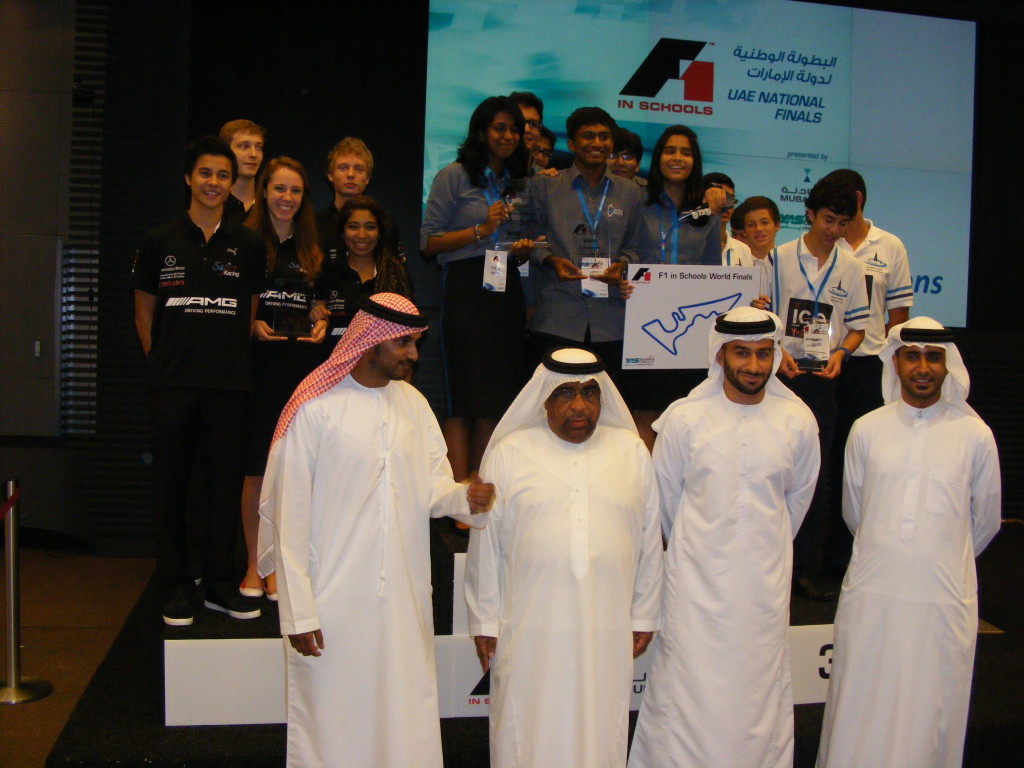 17.14
2nd PLACE OVERALL!!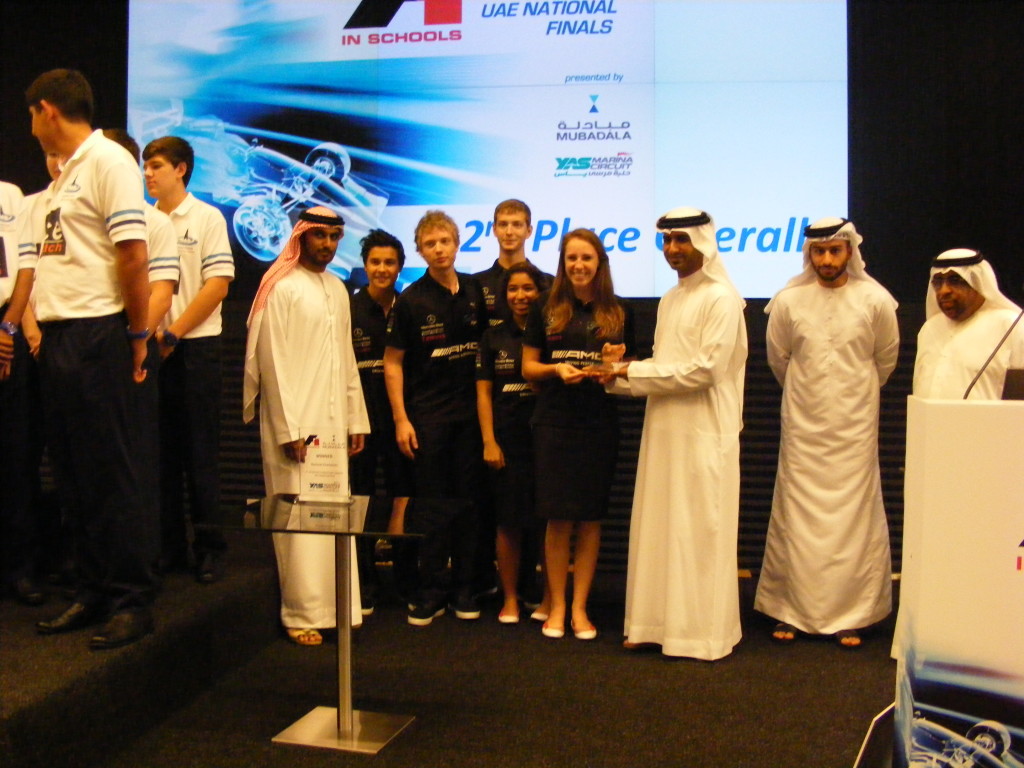 17.12
WE WON BEST VERBAL PRESENTATION!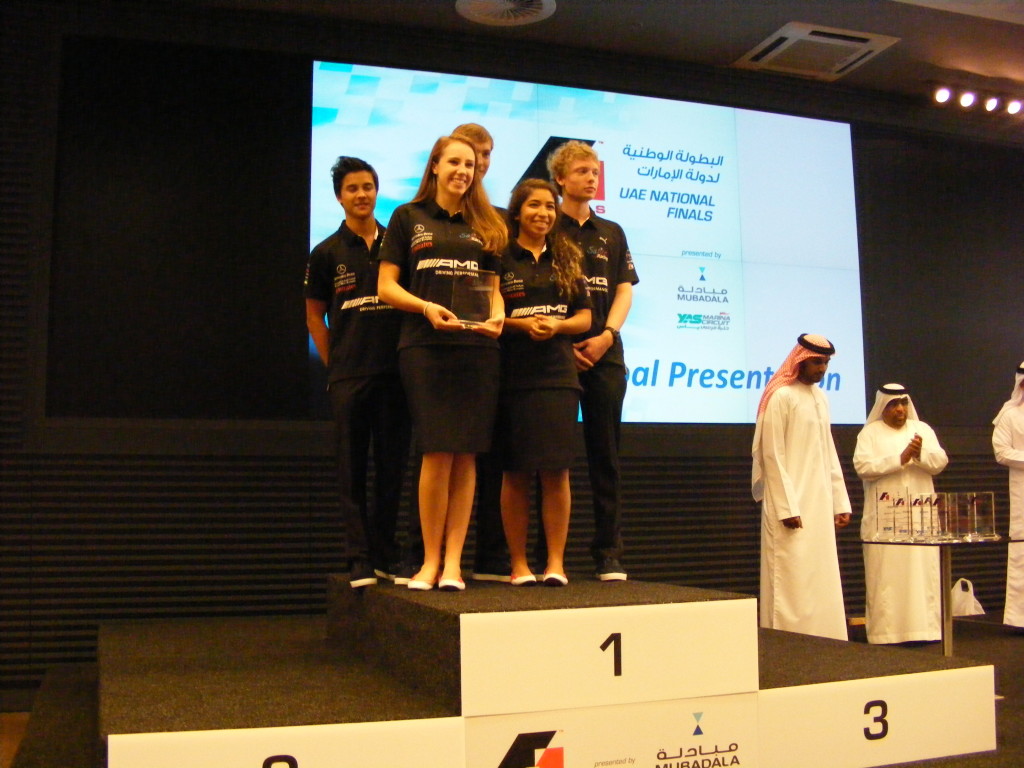 17.06
We won one of the minor awards! Guess which one!
16.23
Group photo!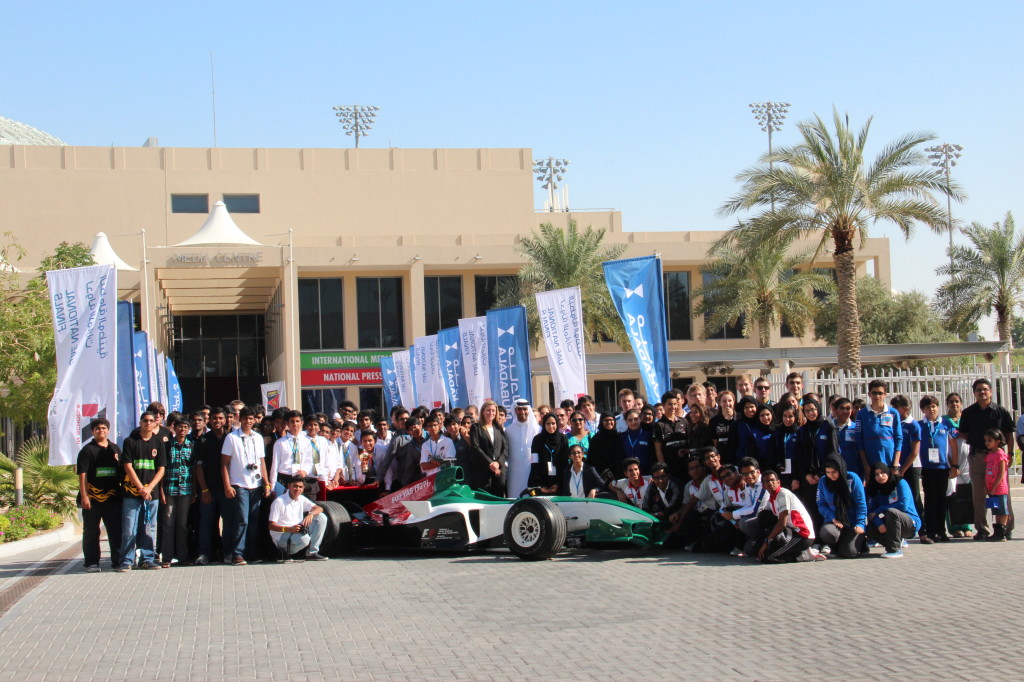 16.13
Who needs a Lead Designer when you can have a trophy!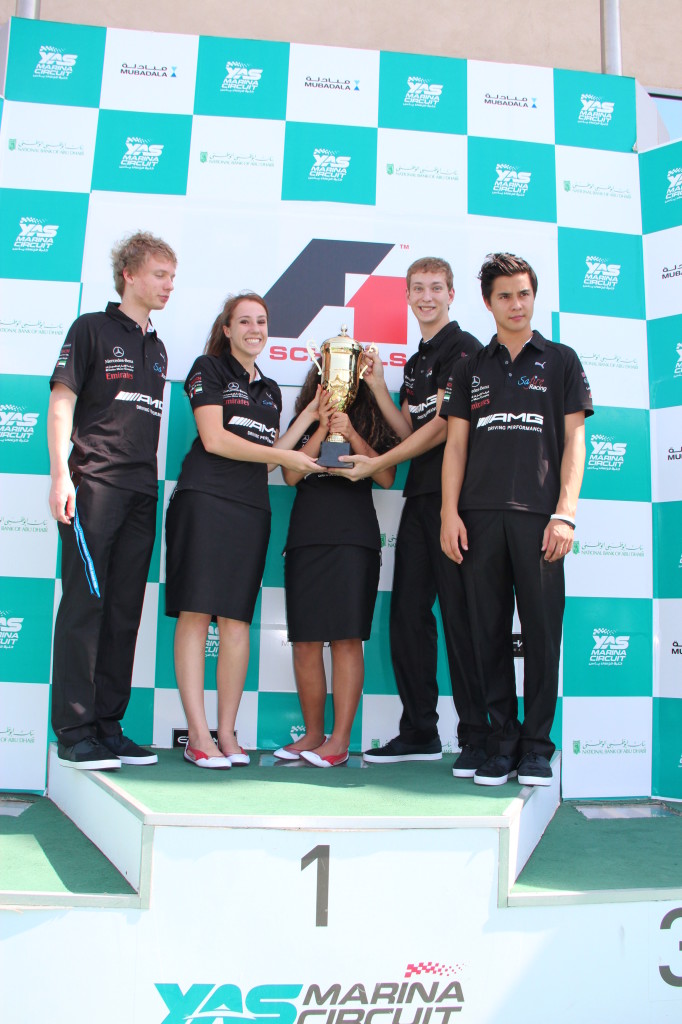 16.06
We got a great tour of the Yas Marina Circuit!
15.39
Julian posing with the safety car!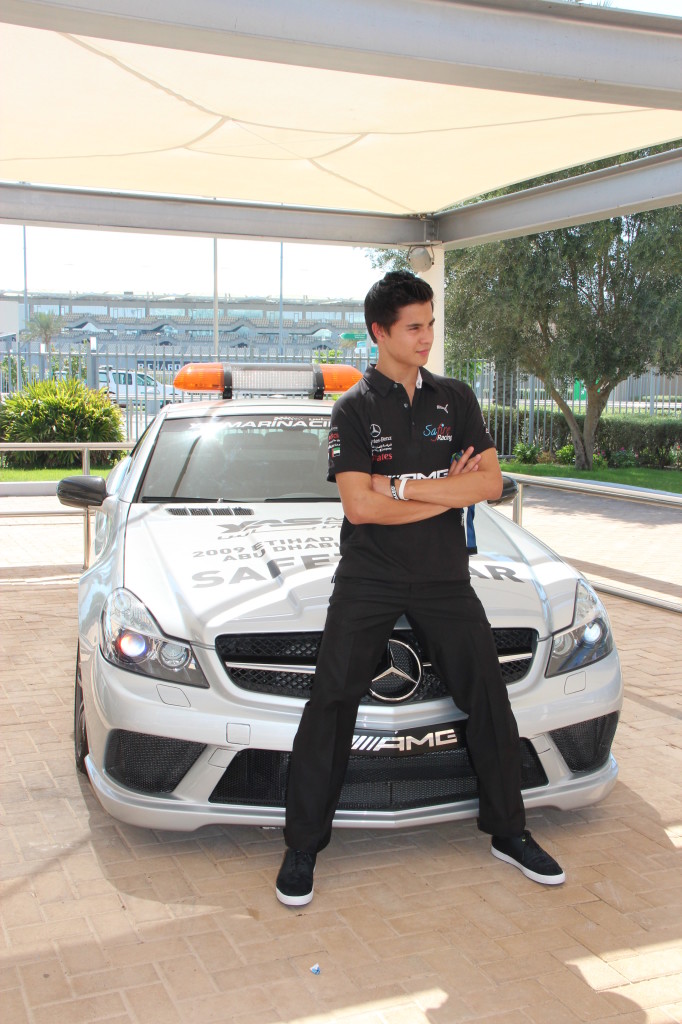 15.37
Volker Bischoff from BOSH came by to support us! Thank you!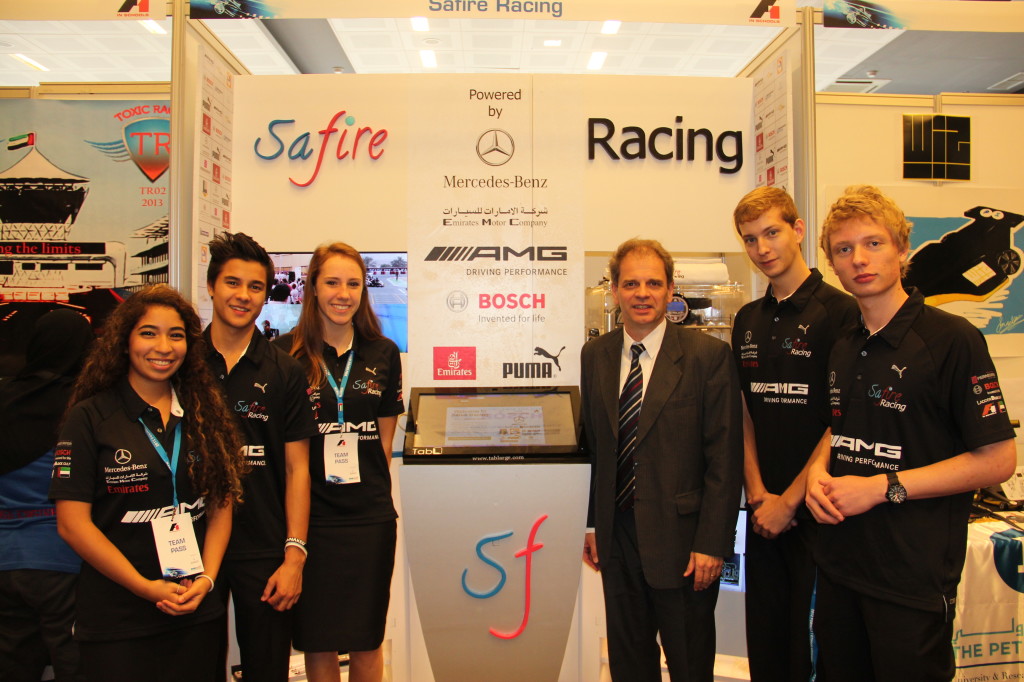 13.43
We will be judged on our pit display, wish us luck!
13.41
We just finished our verbal presentation, we believe it went well!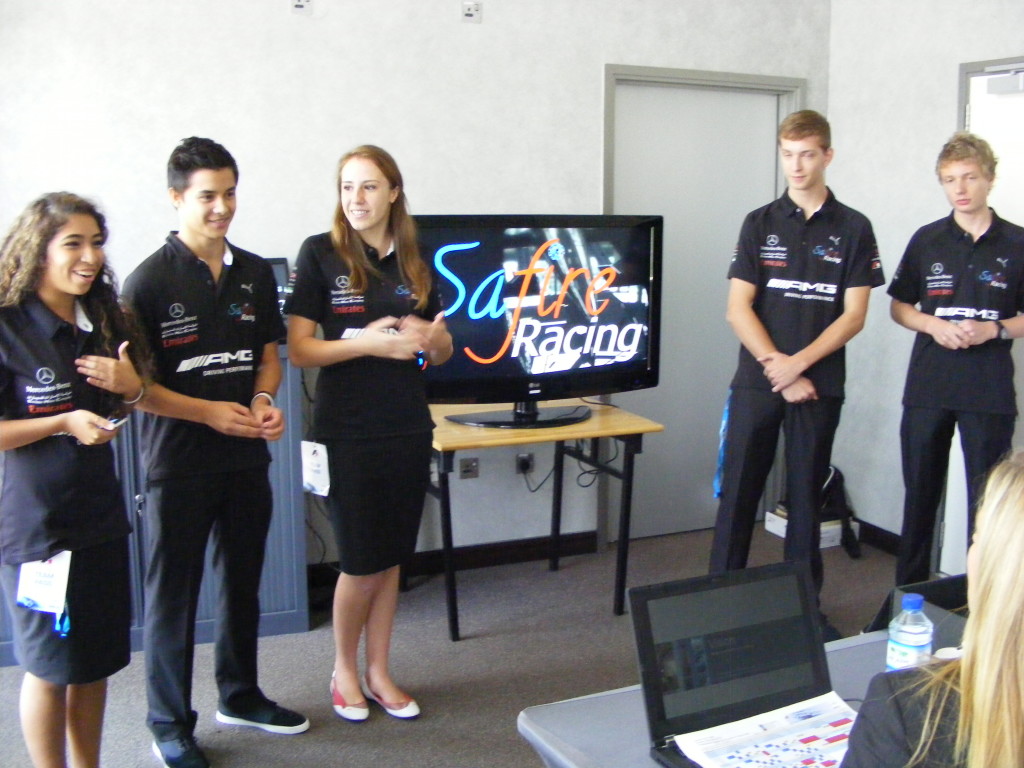 13.33
So far, Safire Racing is doing great!!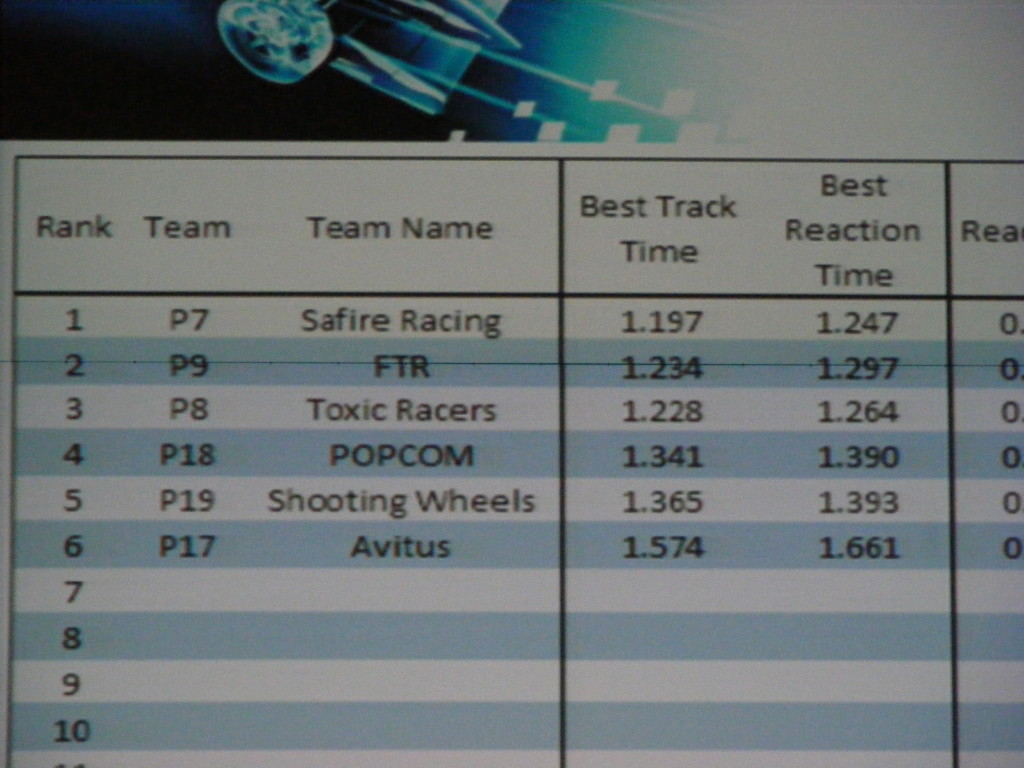 11.53
Next thing on the agenda is our verbal presentation! Wish us luck!
11.52
So far Safire Racing is in 1st place!! With the fastest reaction time and fastest race time!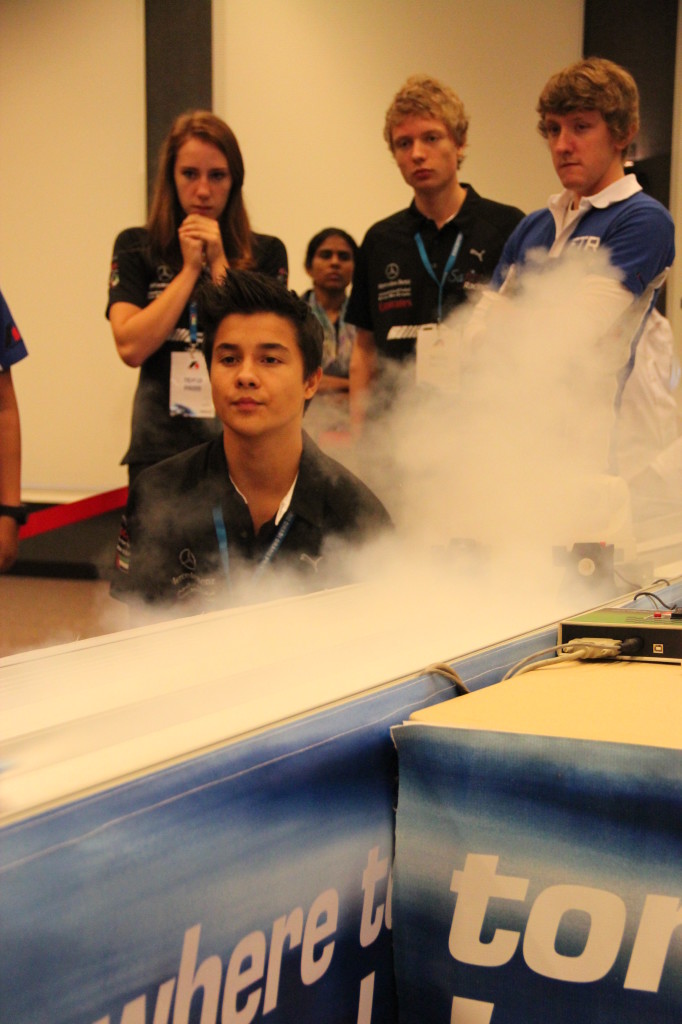 11.46
Tensions were high as the race started!!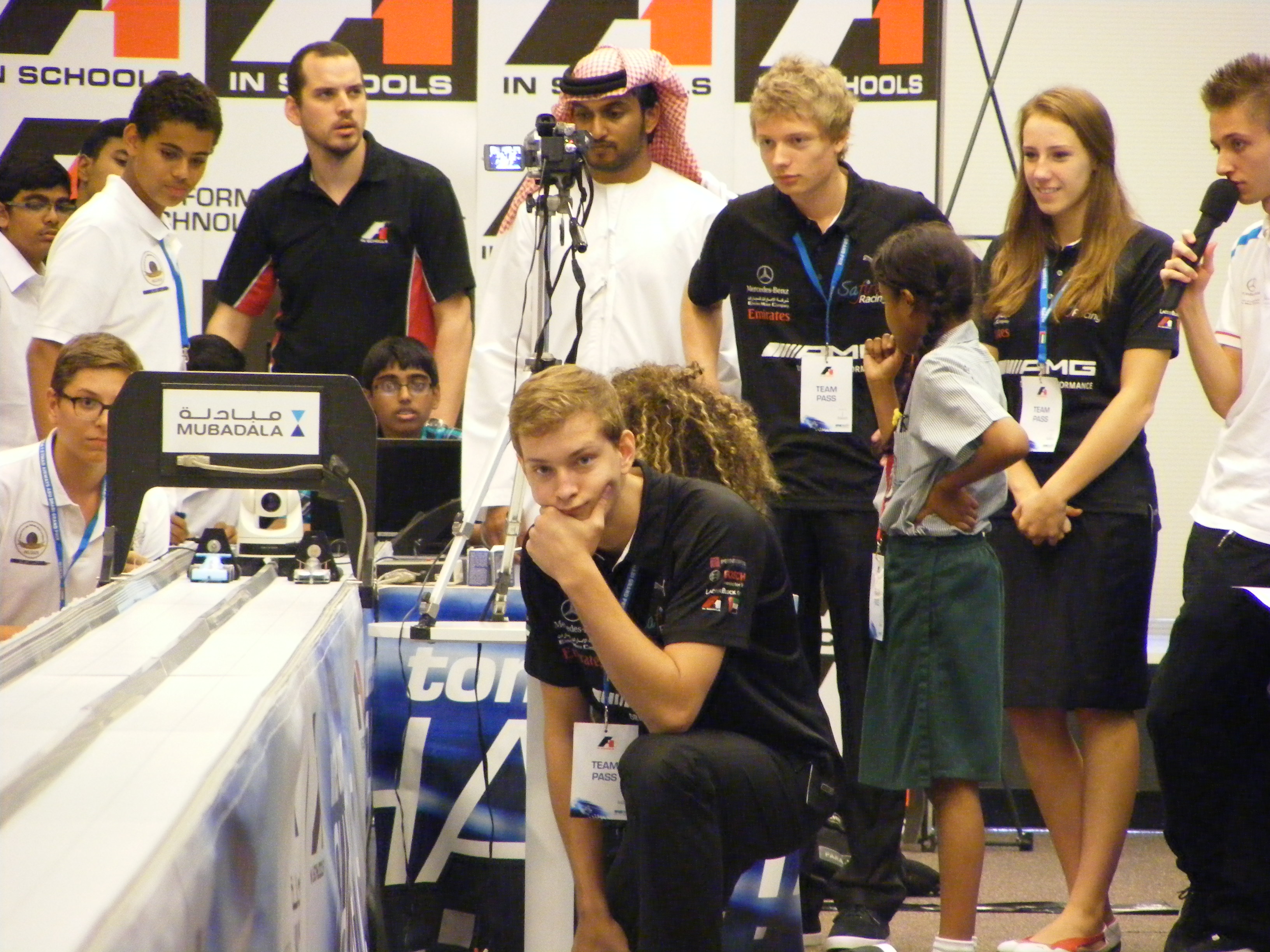 11.43
We've already had some visitors at our pit display and took the opportunity for a team photo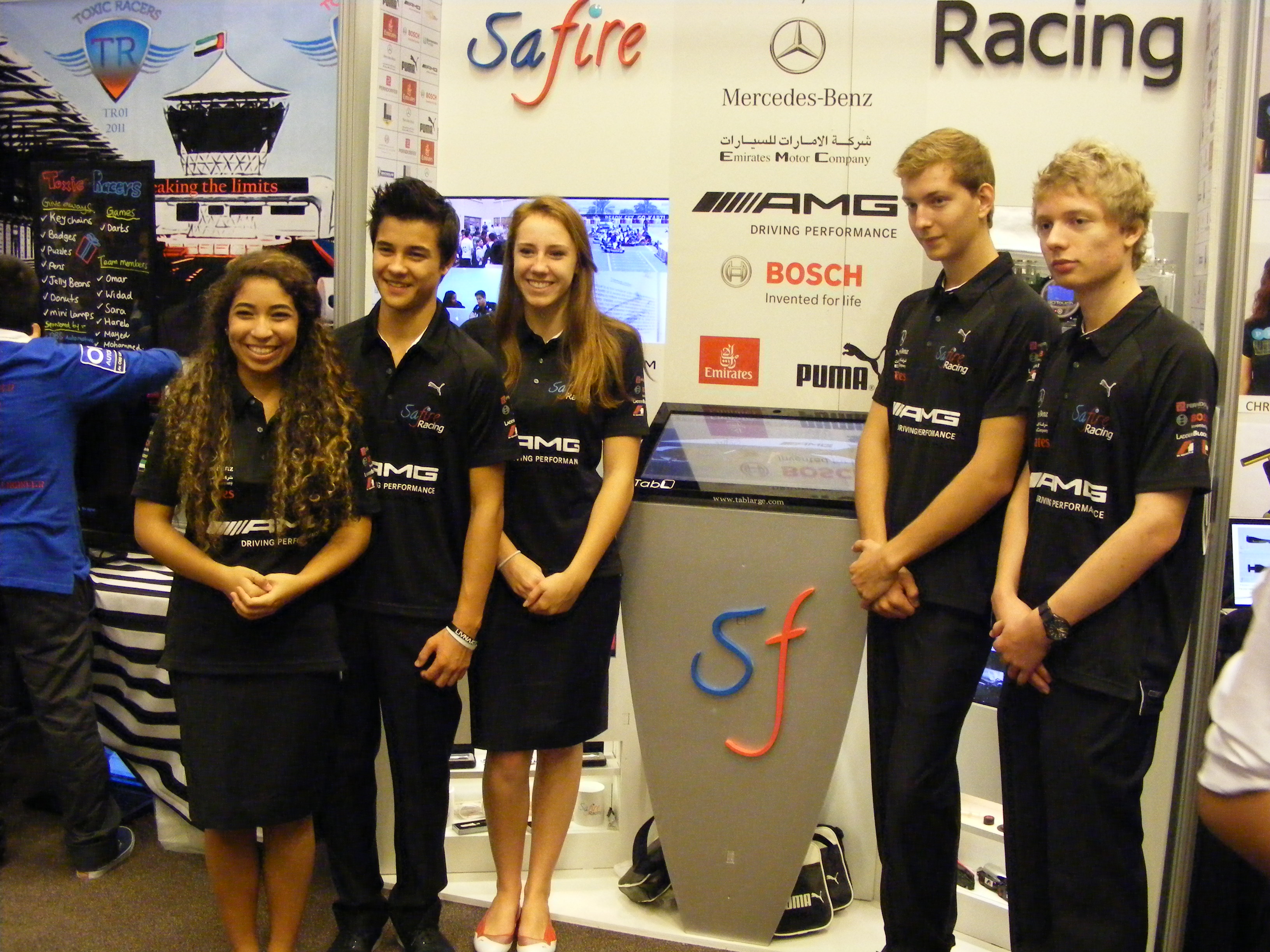 11.27
We just finished our races and won 6/6 with a reaction time of 0.157! Good job Julian!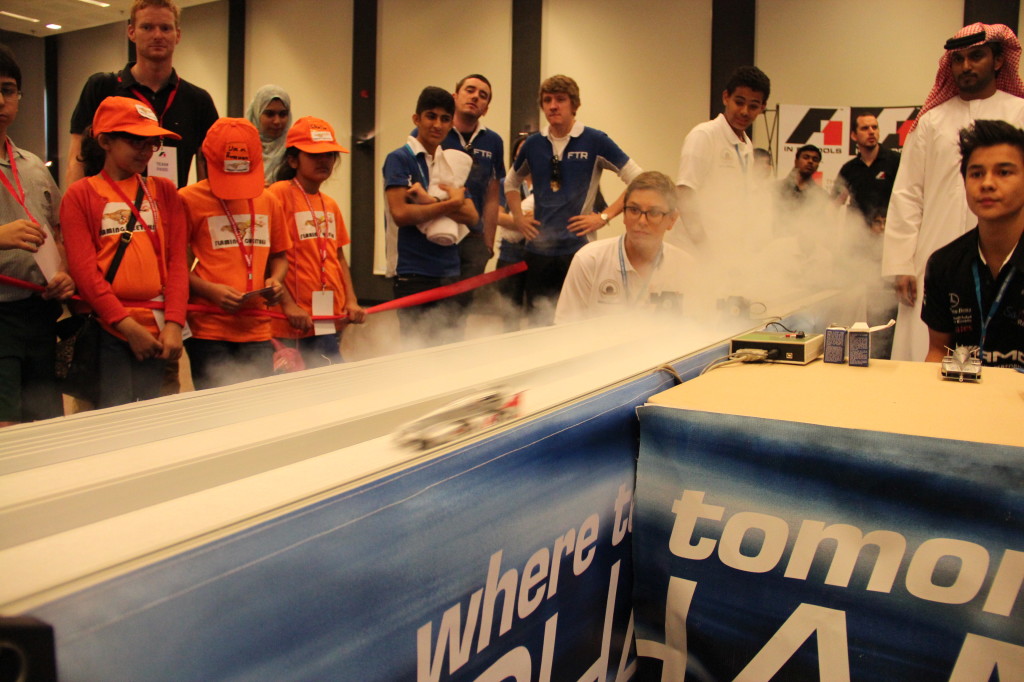 09.37
We are one of the first teams to have their pit display set up! Looks great, doesn't it?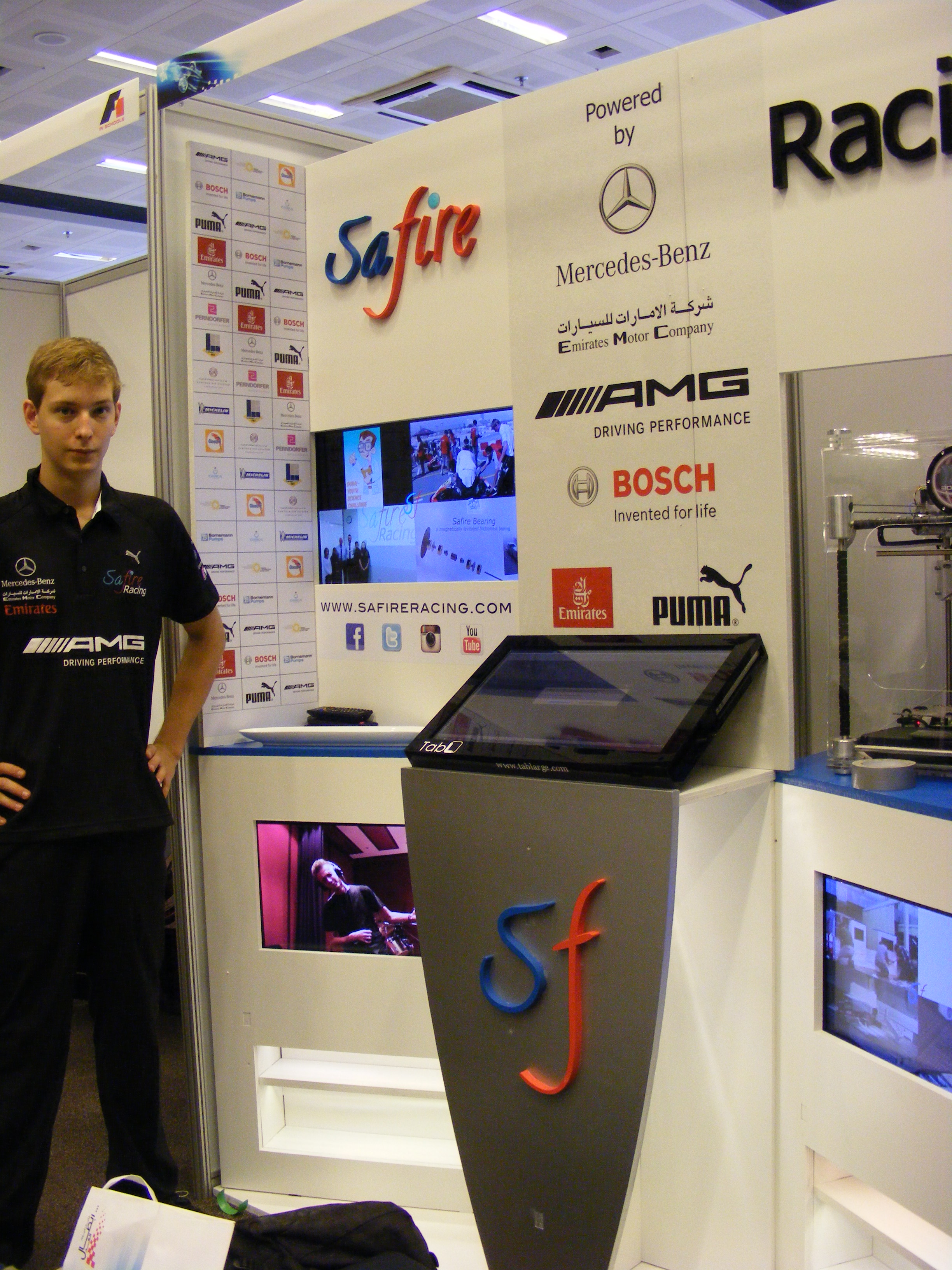 09.28
Safire Racing has arrived at the Centre of Exellence at Yas Marina Circuit! We are very excited and can't wait for the competition to begin! Wish us luck!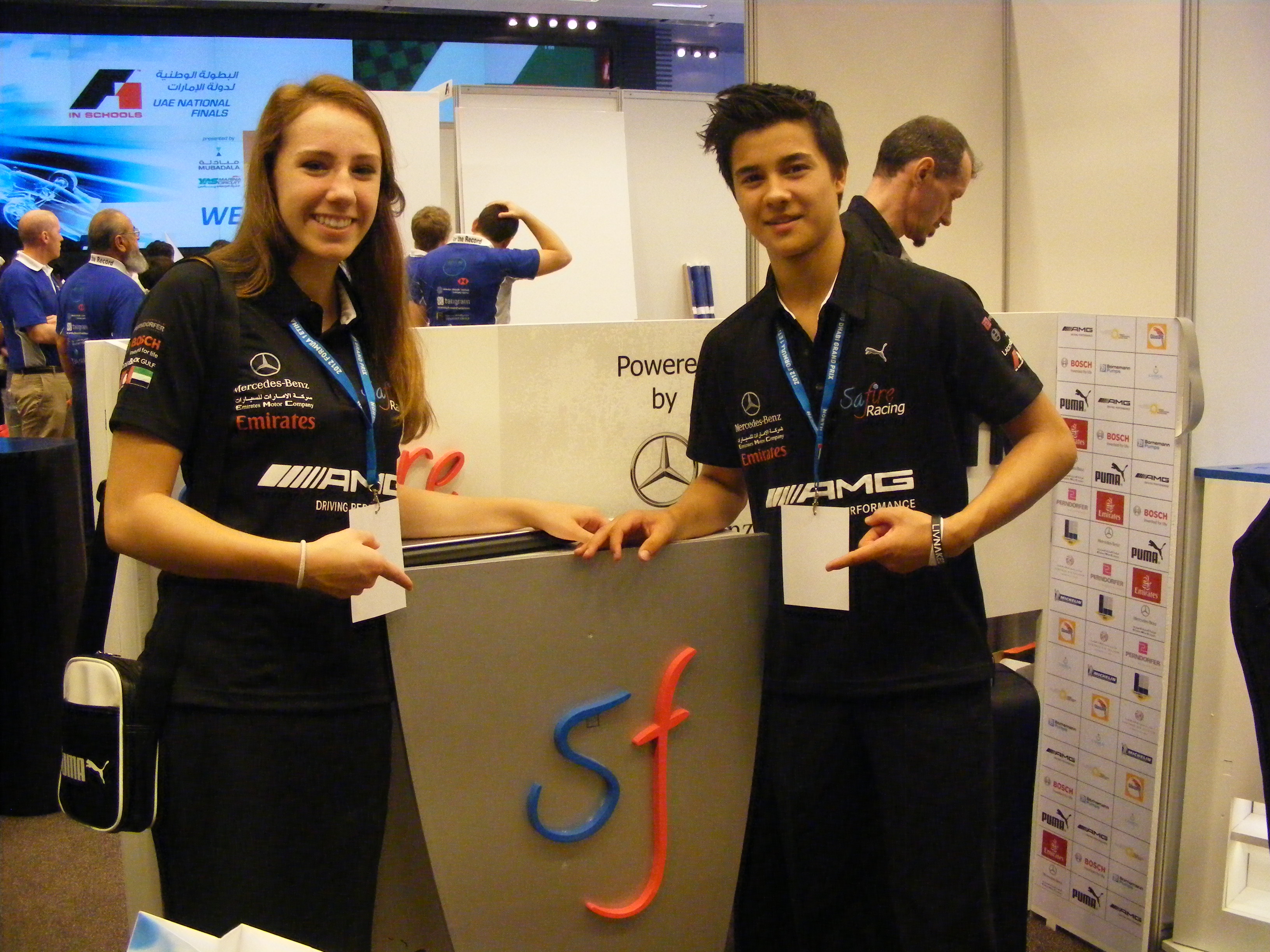 05.23
Live blogging will begin at around 8AM.
12.45
The team and Mujahi Salman Regional Director of Goal Zero Middle East, 174 solar.
12.41
The morning i coming to the end and we are starting to pack up, thank you to all of our sponsors who helped make our participation a succes!
09.46
The girls from Our Own English High School are eager to learn more about our Safire Bearing project!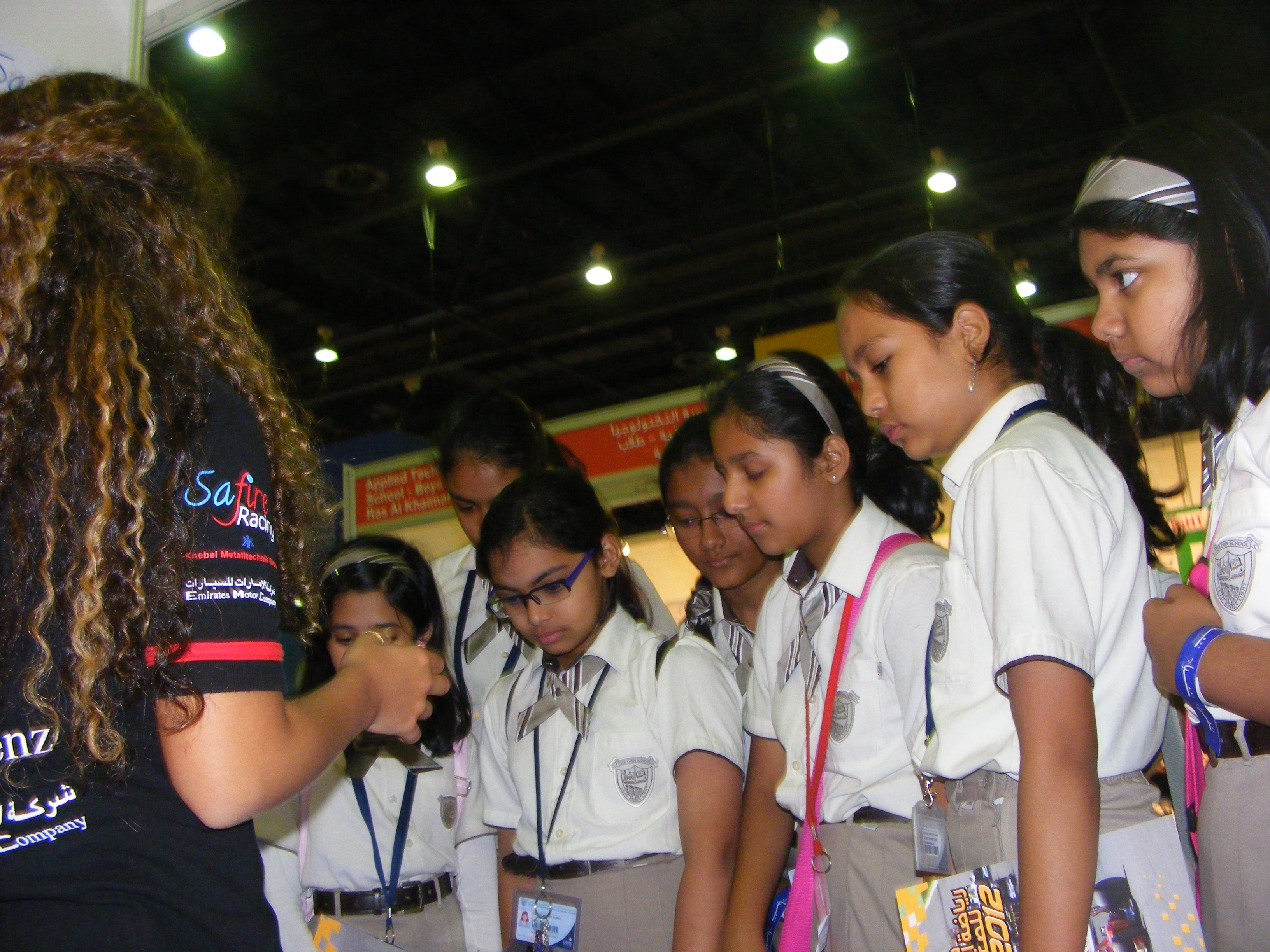 09.32
The first people are visiting our stand, wanting to learn more about our project. A good start to the day!
08.21
Good morning again! Yesterday afternoon was uneventful, as we had no judges evaluate us. Today is the final round and we are already setting up. 10 minutes until the day officially starts!
14.58
After the lunch break the second judging round of the day will begin, wish us luck!
14.58
Dr. Sami Ainane Dean, Student Affairs at The Petroleum Institute and Hans Tholstrup President of International Solarcar Federation showed great interest in the F1 in Schools project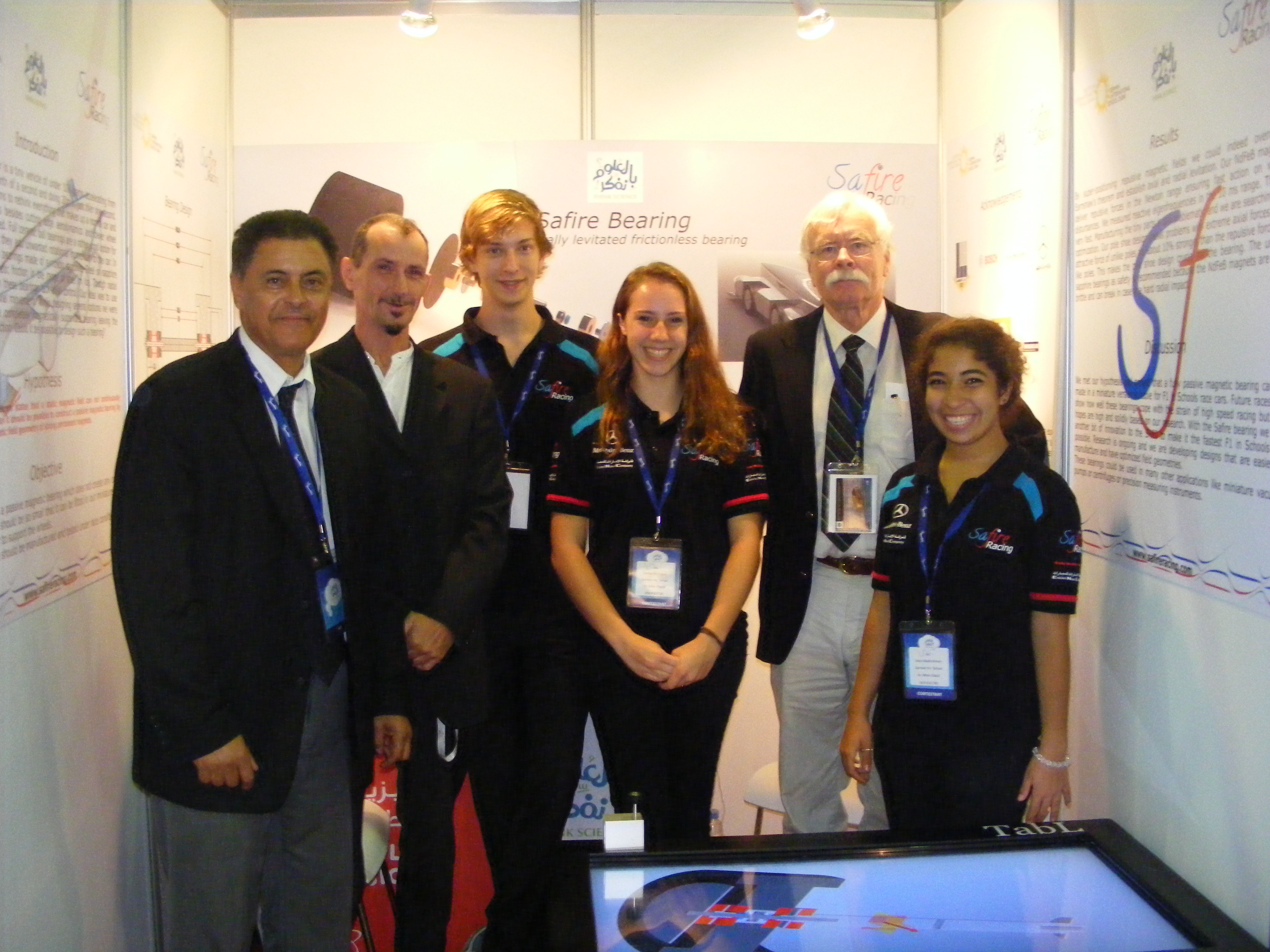 14.52
Ms Abeer M. Gibril of Emirates Foundation for Youth Development was very impressed by our "innovative ideas" as she put it!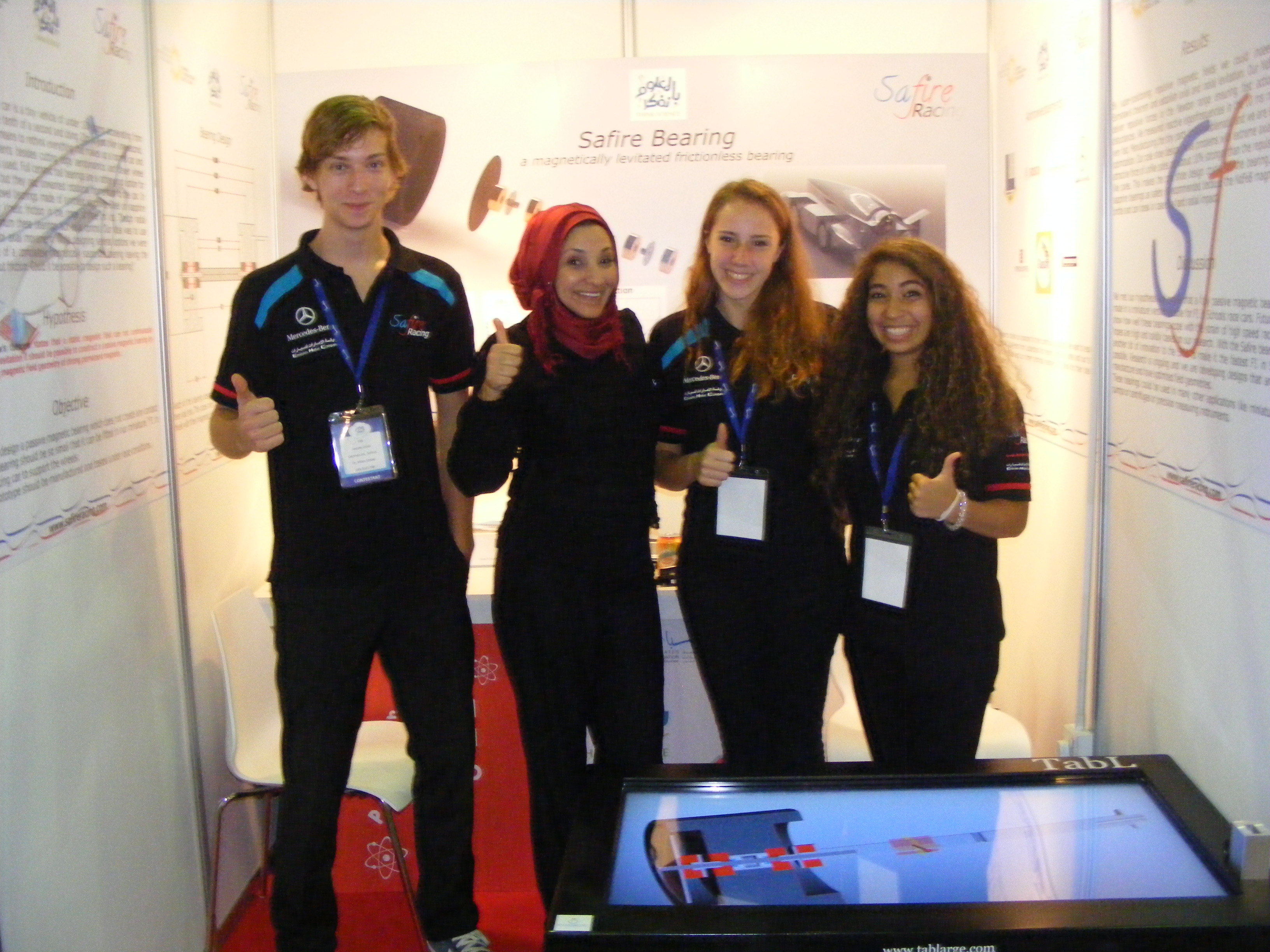 12.12
Hans Tholstrup, President of International Solarcar Federation visited us and was impressed by our project!
11.33
Our stand is very popular! We are constantly busy explaining our project to school groups.
11.27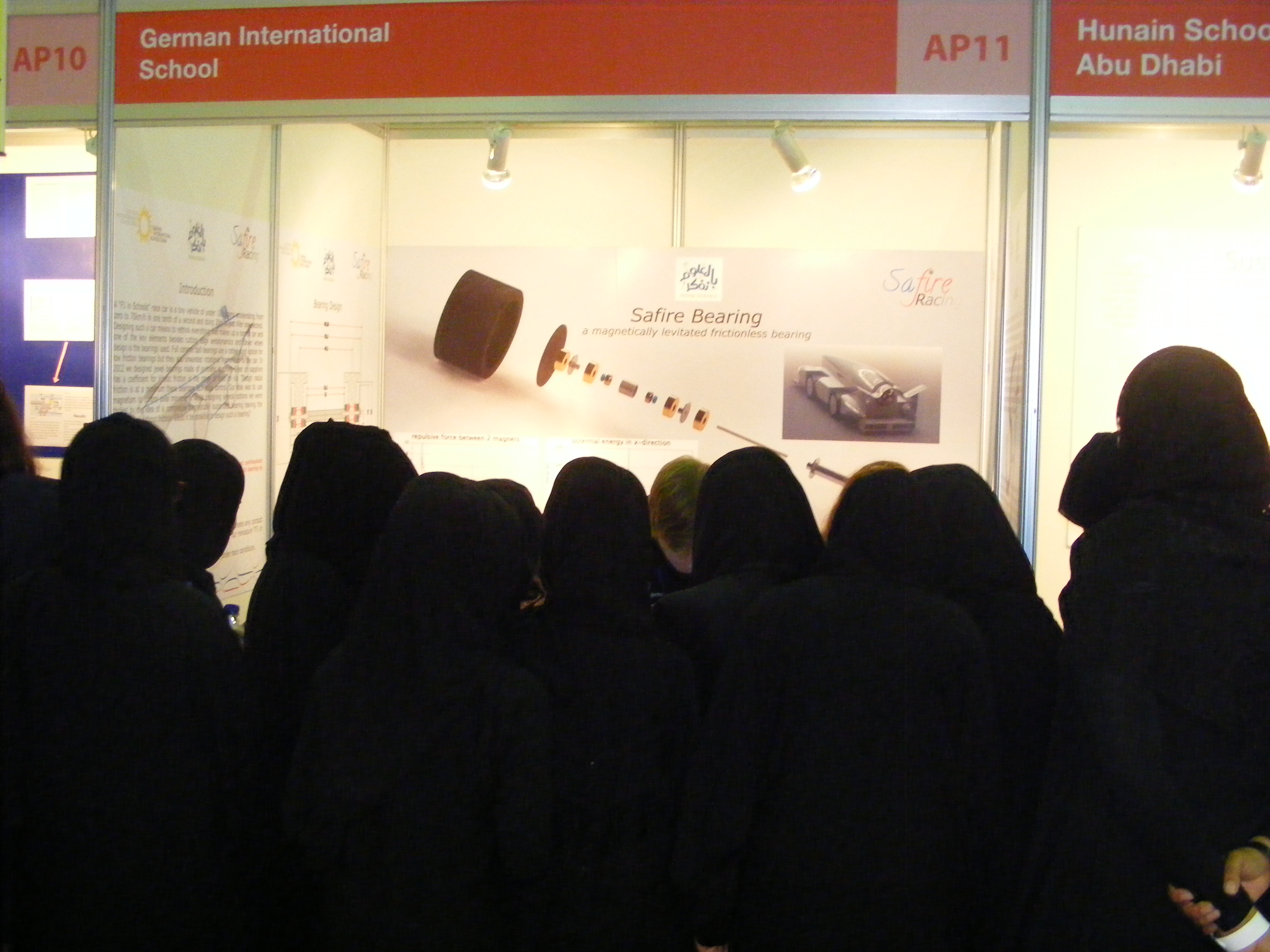 10.50
The first judging round is over and everyone seemed impressed! Even the visiting schools!
10.39
Good morning! Day 2 of the competition has just begun. The first round of judging is underway. Wish us luck!
14.40
And it's done! Thanks a lot to everyone who supported us today, and of course to all the amazing projects of the participants.
We need to get packing up here, so we will inform you about the winners, and upload a load of pictures later today. Thanks for following this blog!
Take care.
13.53
Prize giving is coming up now! Let's see who's done the best job in each of the categories.
13.36
F1 in Schools seems to be interesting people … 🙂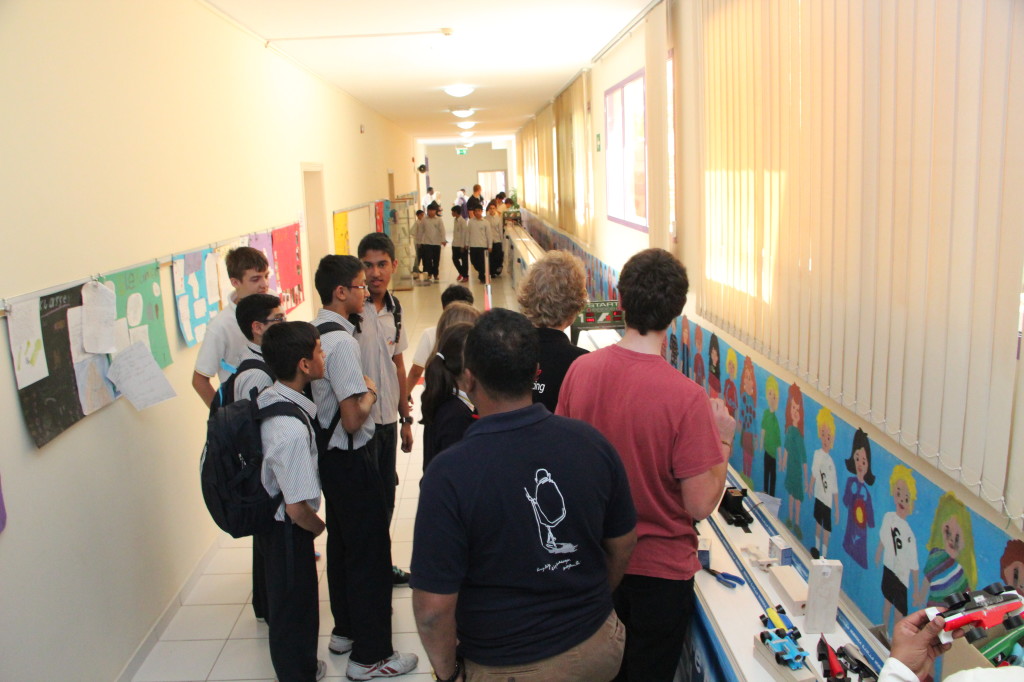 13.35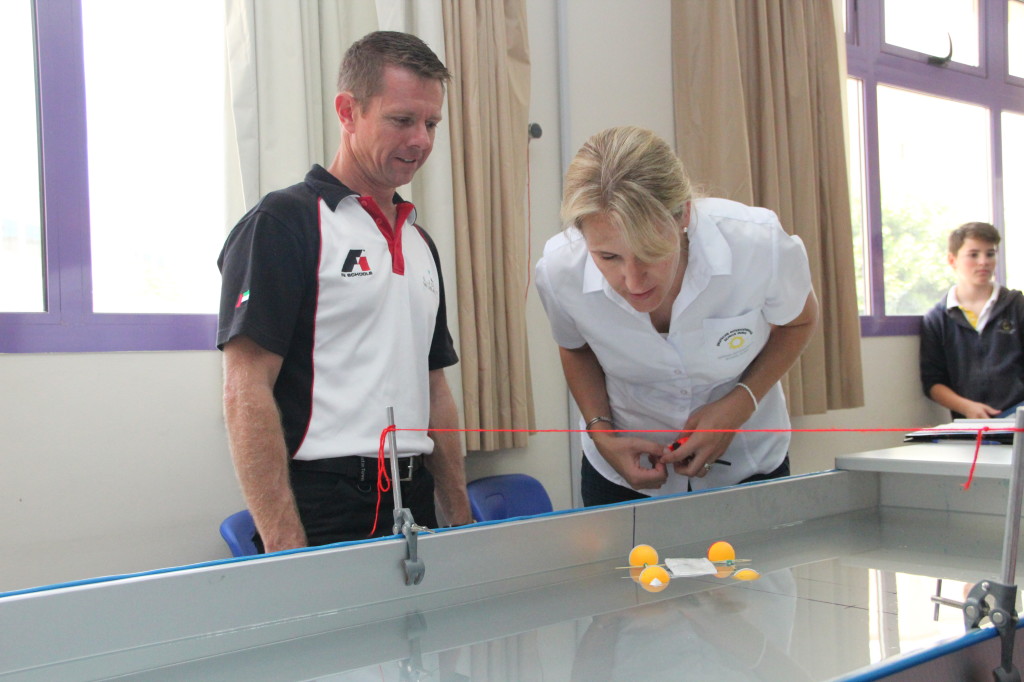 13.32
Very nice work that we see here! Prize giving ceremony will start at 2 PM.
13.13
Come visit our cafeteria for some of this delicious food!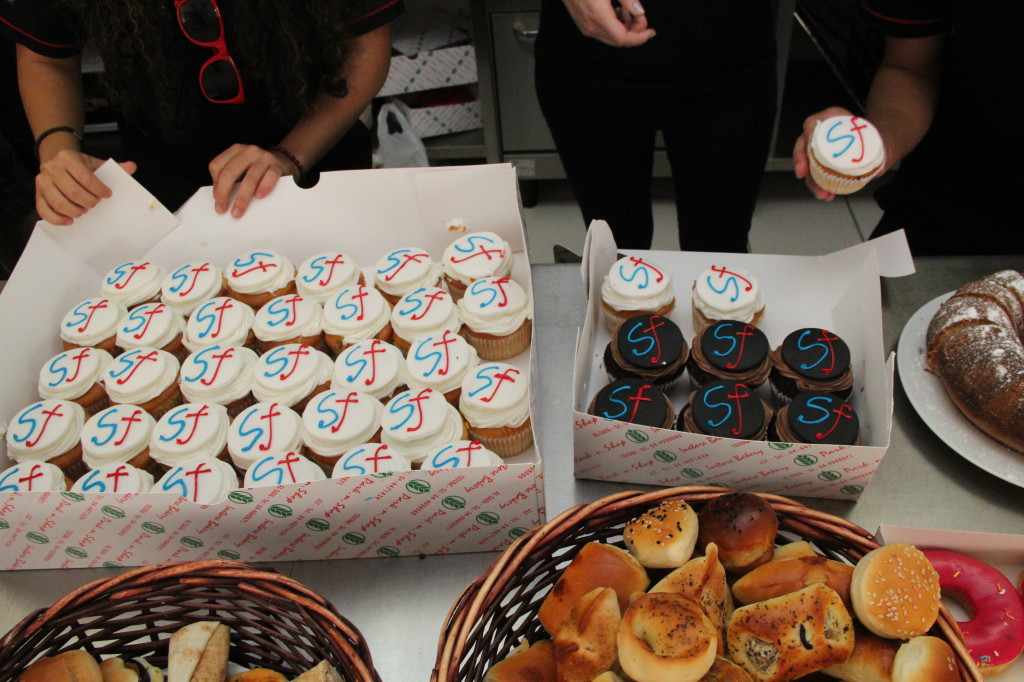 13.03
Those Amphicars are looking great!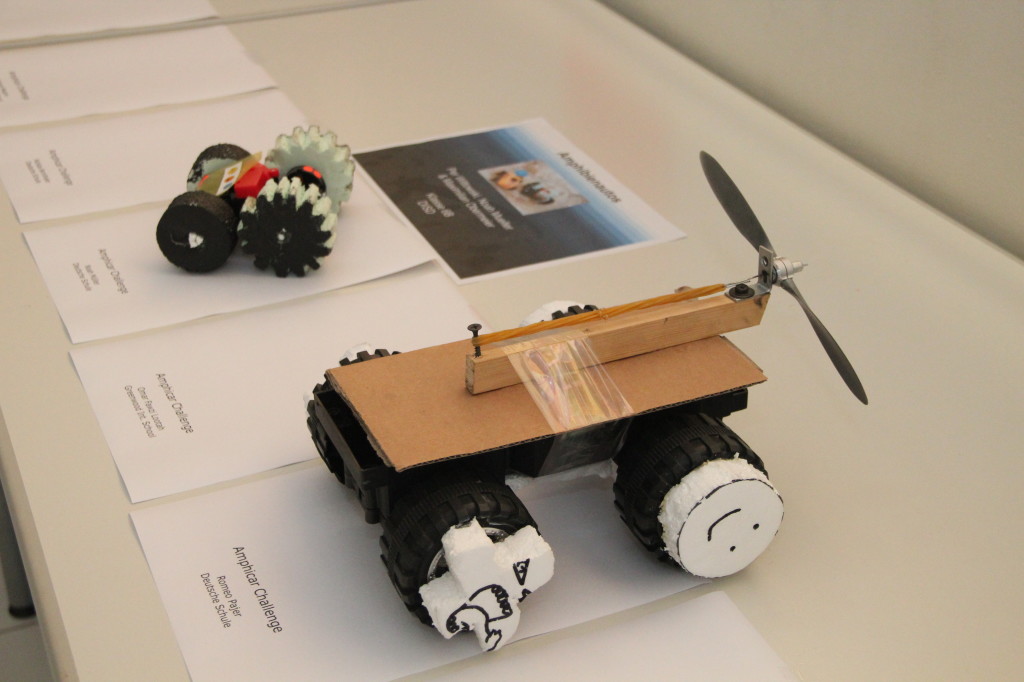 13.00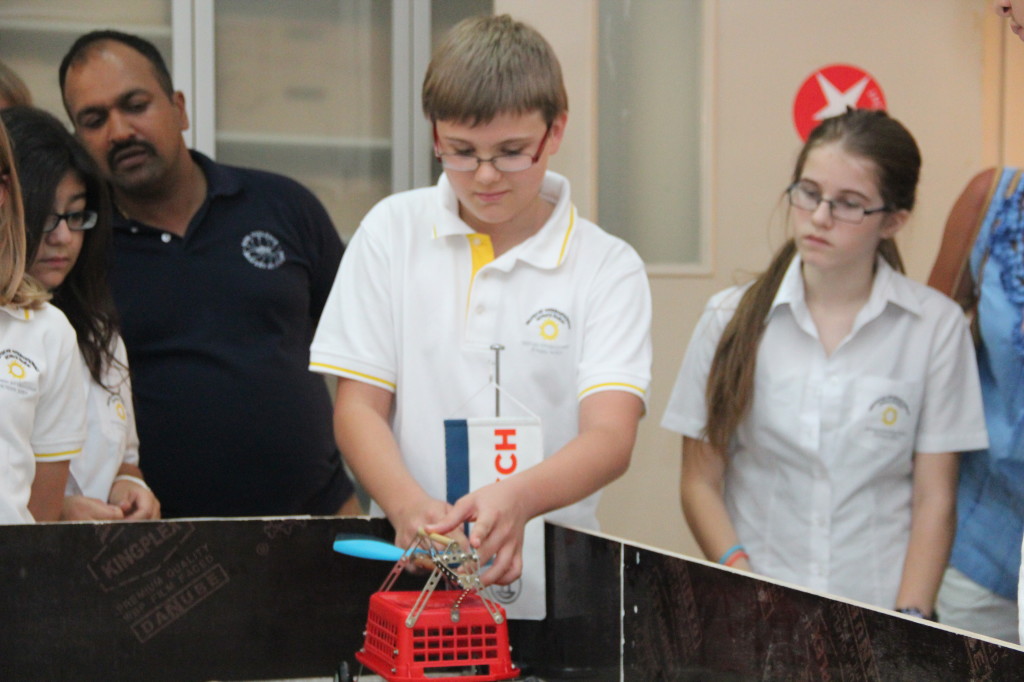 12.59
The Mars Rover challenge has begun!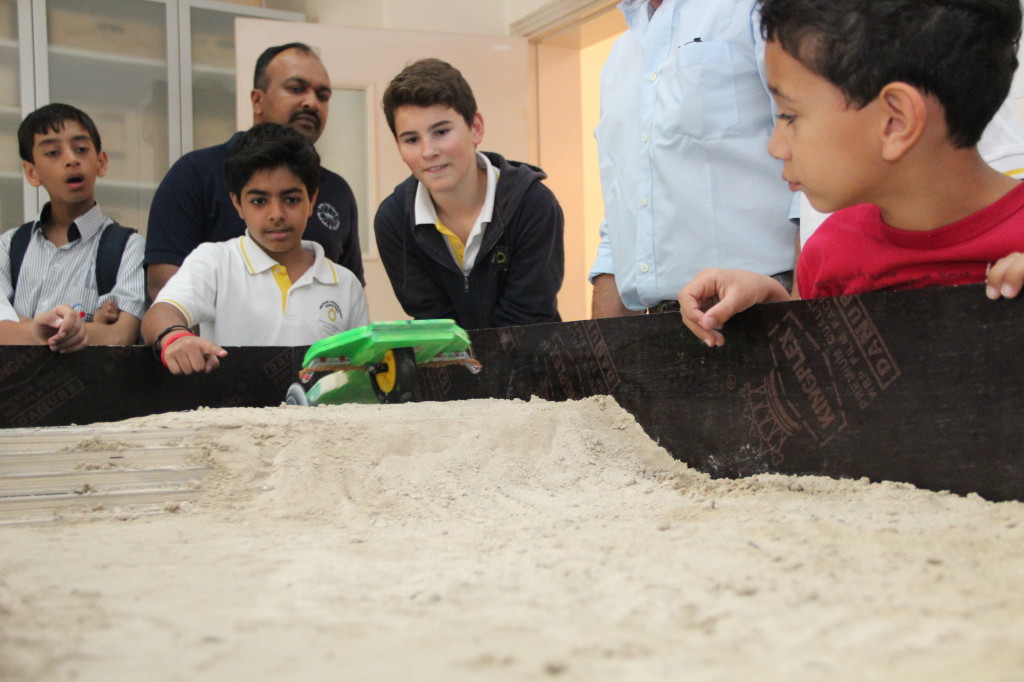 12.55
These young students were amoung the first to set up their projects.
12.28
Paul Bray, F1 in Schools representative, has set up a track to present the international project to the students.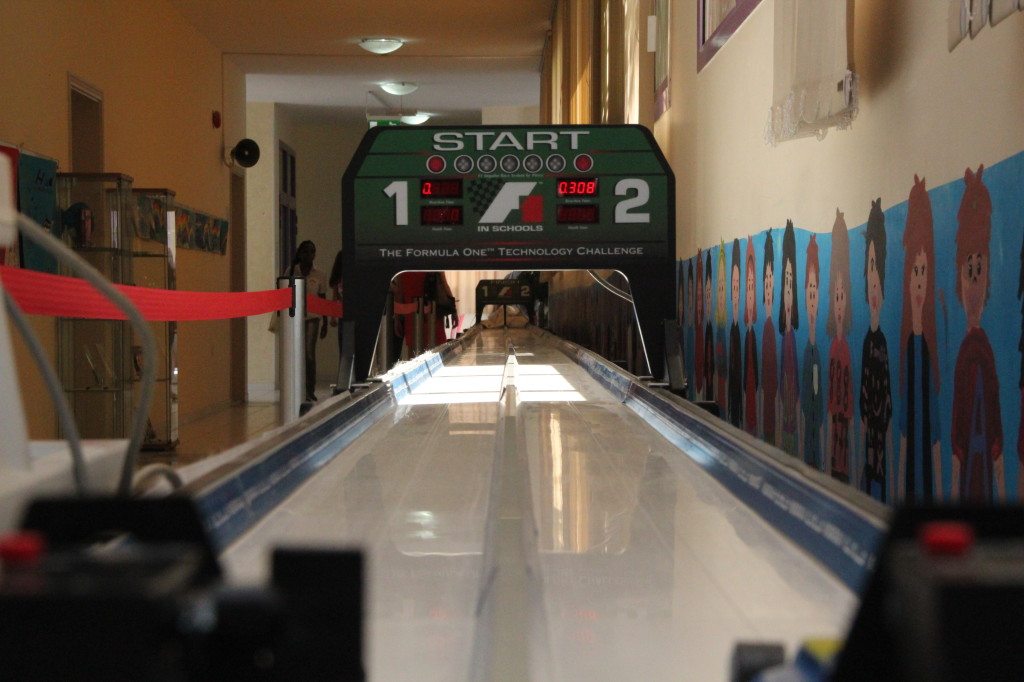 12.22
Many thanks to our sponsors and supporters who are volunteering as judges today!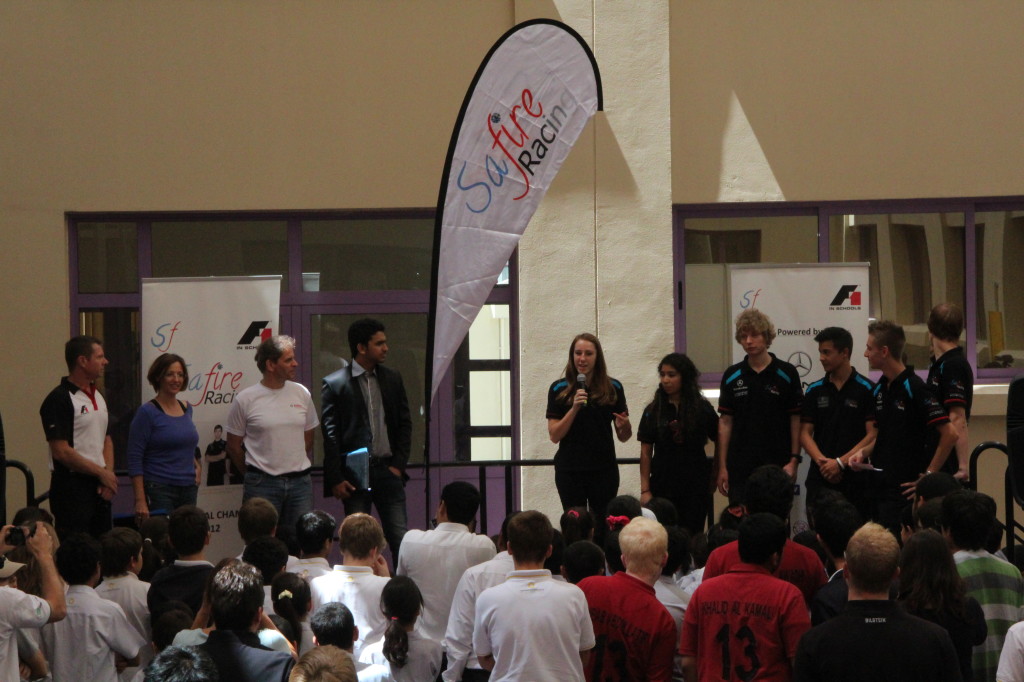 12.03
And the opening ceremony is completed … Students are off to show their projects!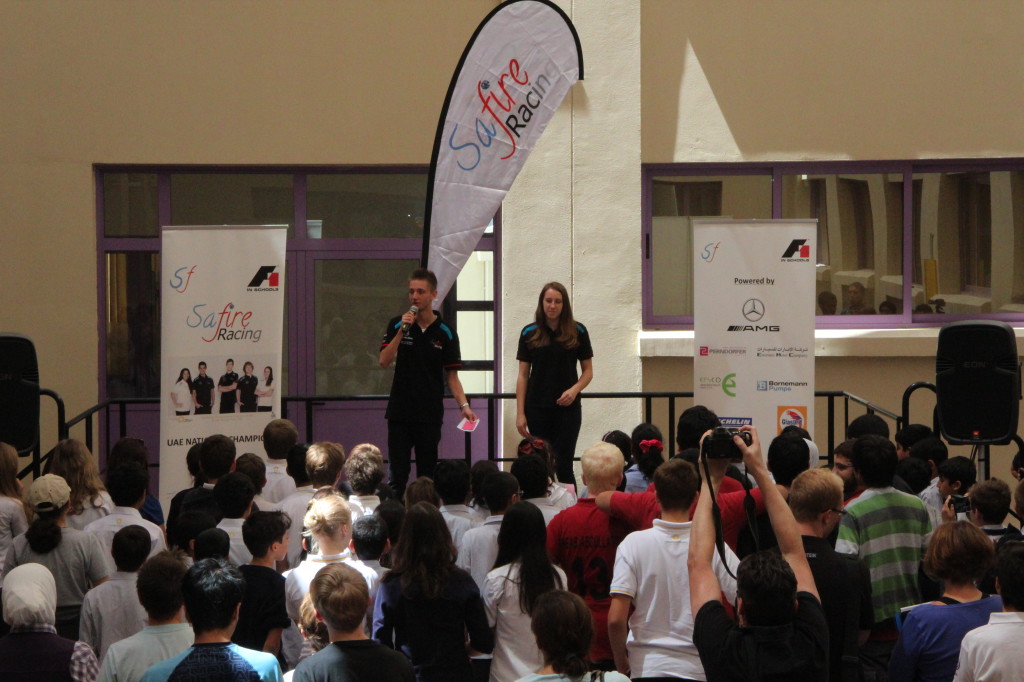 11.41
We will start with the opening ceremony shortly.
11.05
If you want to try one of our delicious Safire Racing cupcakes, then come visit us at the German international School Dubai! Refreshments will be served in the cafeteria.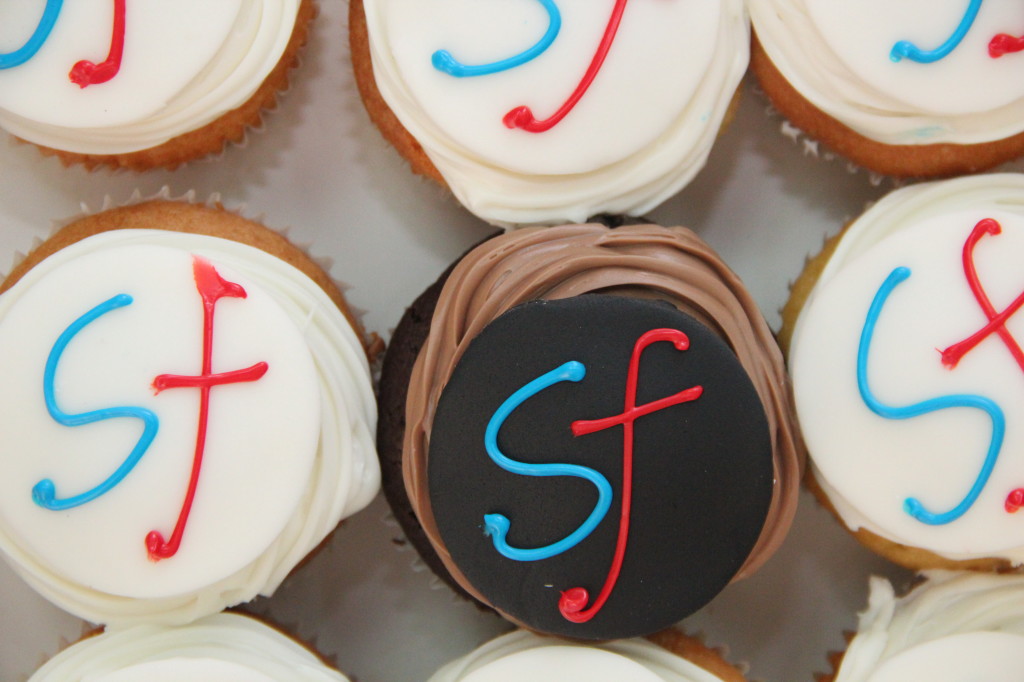 11.01
The first schools are arriving and the students are eager to present their projects!
10.50
Chris and Jordan are going to keep you updated here today.
10.47
Good morning! We're setting things up at the moment and the first schools are already arriving at the third Dubai Youth Science Challenge at the German International School Dubai, proudly organized and presented by Safire Racing.
02.15
This is it! It's crazy how fast these 12 hours (even though most of us have been here for much longer) past by. Going to pack up now …
Thanks a lot to everyone who supported us today! Also a big thanks to all of you following this blog.
Good night!
02.12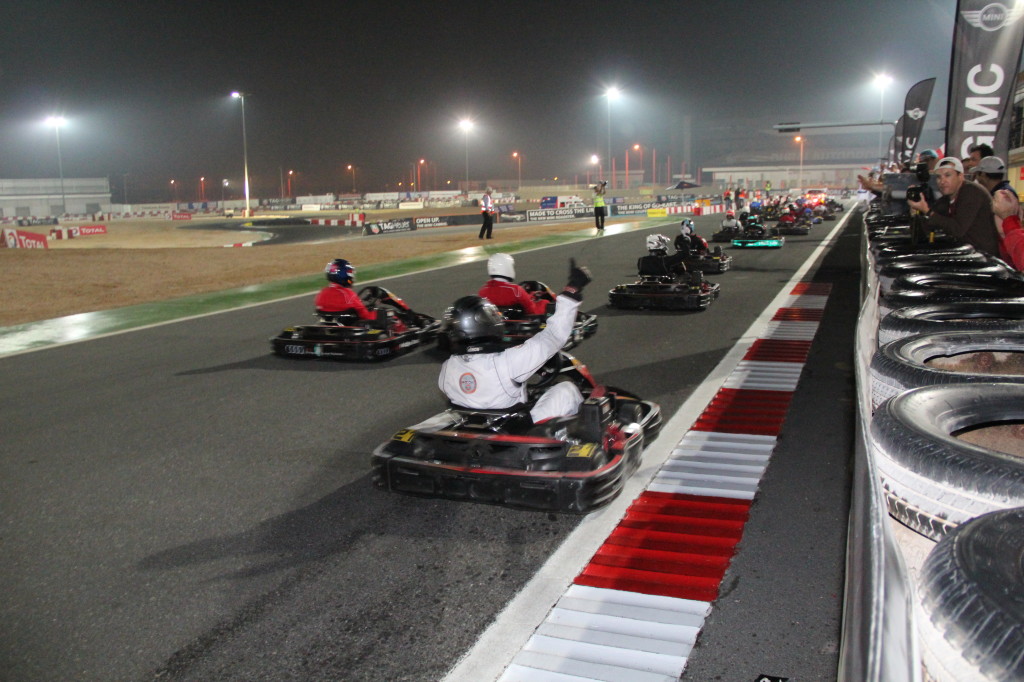 02.07
If you remember, we had a time penalty during the race, which took us down to 21st place. And now we finished 12th … Awesome, isn't it?
02.00
FINISHED! Safire Racing is placed 12th out of 30 teams at this 12h race of the Dubai Kartdrome! Definitely an amazing achievement!
01.50
10 minutes to go! Still placed 12th.
01.30
12th place right now! Half an hour to go …
01.26
And he's off!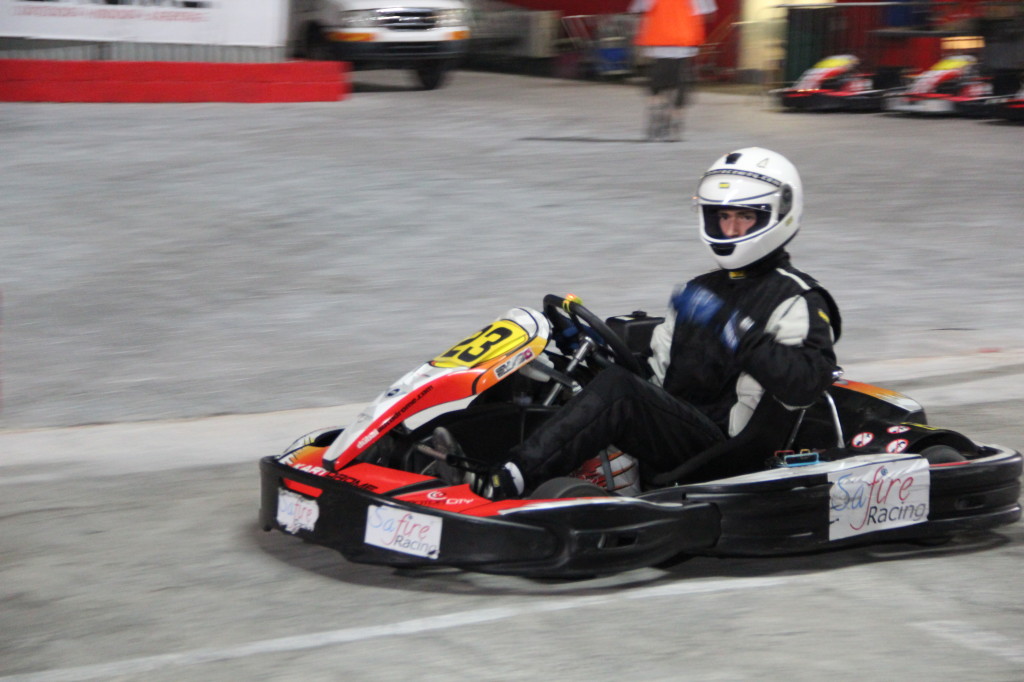 01.20
Around 40 minutes left. We're preparing for the last pit stop, and will send our best driver out for the last chance!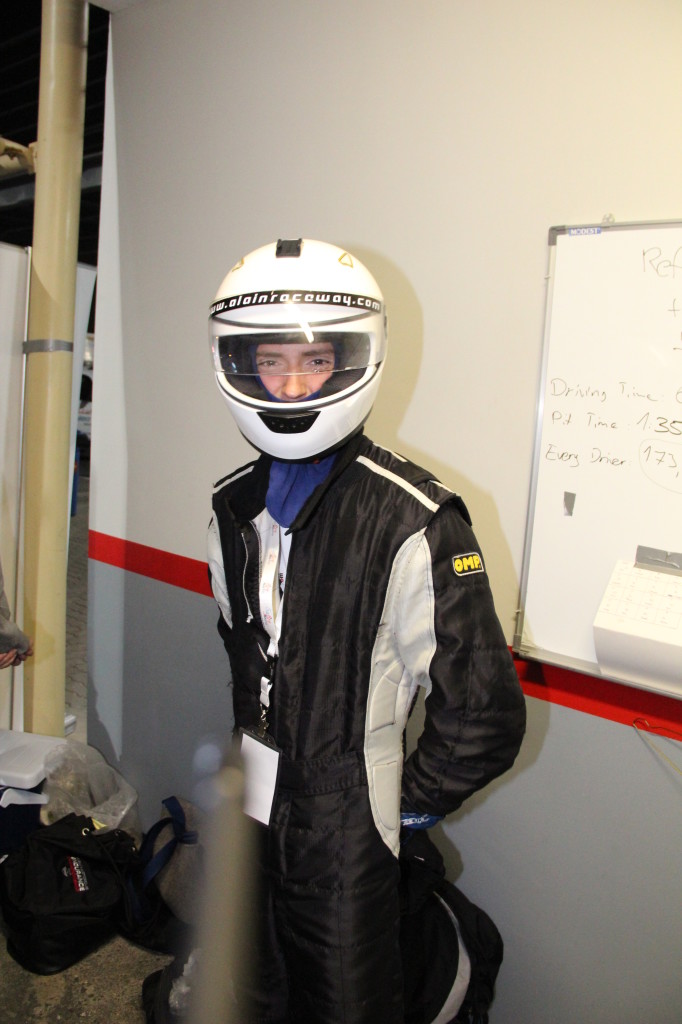 01.07
We're placed 14th at the moment. Can we still reach the top 10 ??
01.04
1 hour to go!!
00.17
Just realized that the last driver forgot to refuel … The tank was nearly empty when he came in. Oops!
00.15
Next driver's change …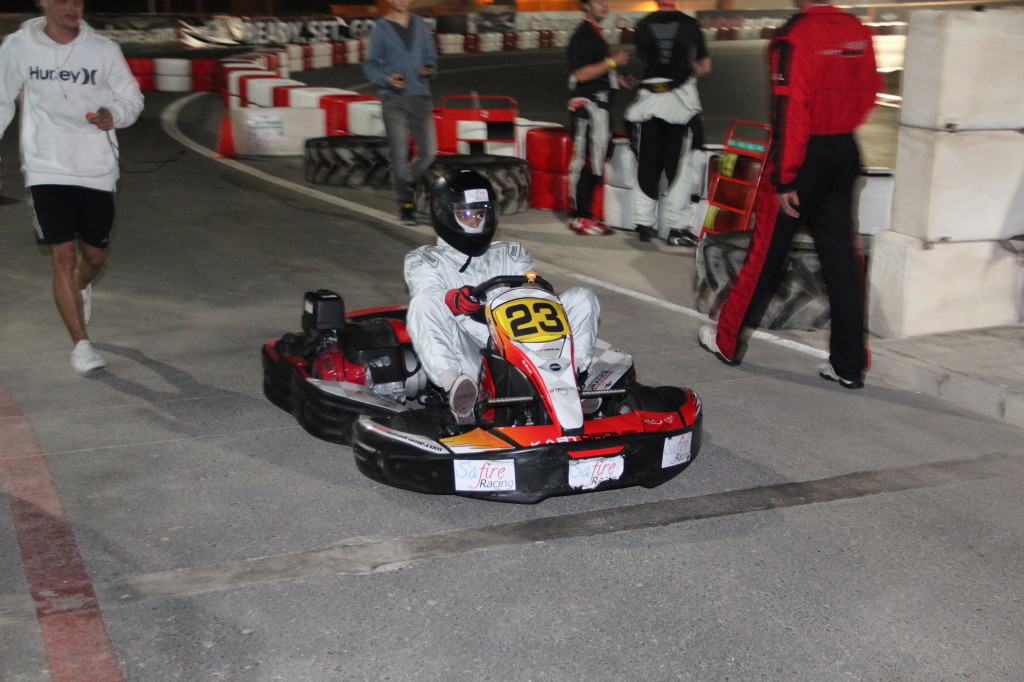 23.42
This is our "workstation", by the way. Filled with water bottles …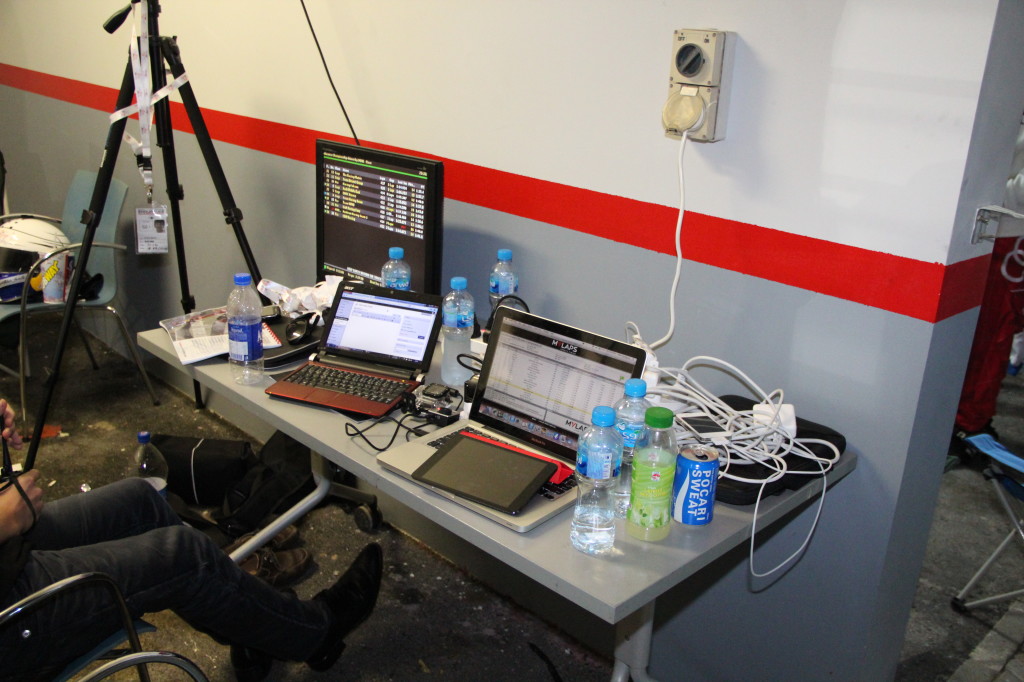 23.37
And the next driver change has proceeded.
23.19
Looking at some good times. 3 hours to go!
22.15
Driver's change has just proceeded once again … Off to the next rounds.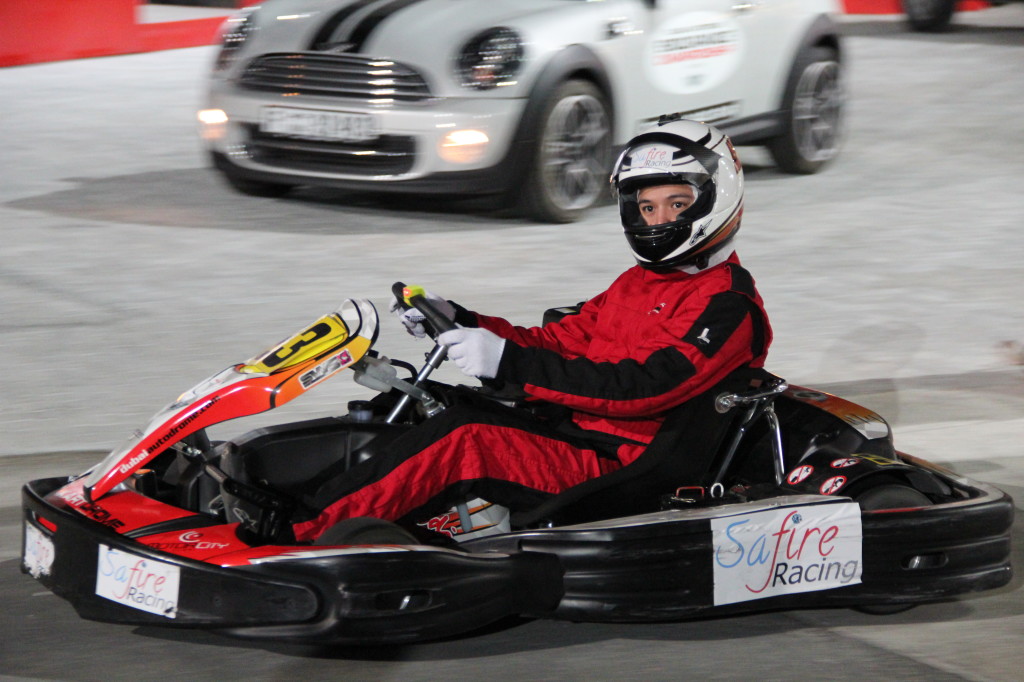 22.03
We're on place 13 at the moment, still with around 4 hours ahead of us. Let's make it into the top 10!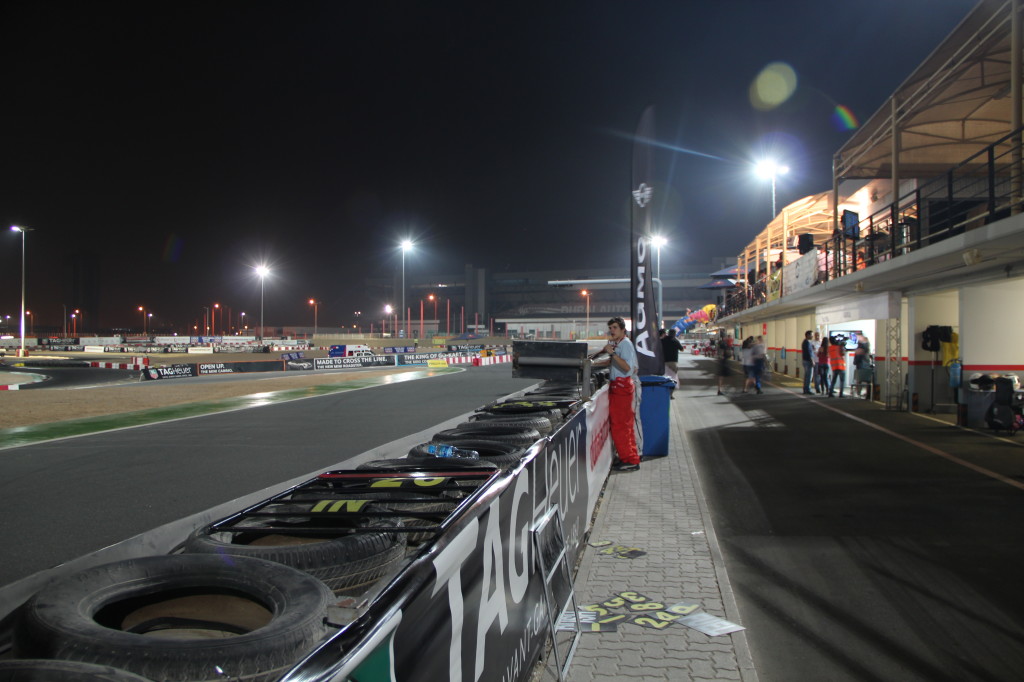 19.50
And the next driver's up! Smile for the camera … 🙂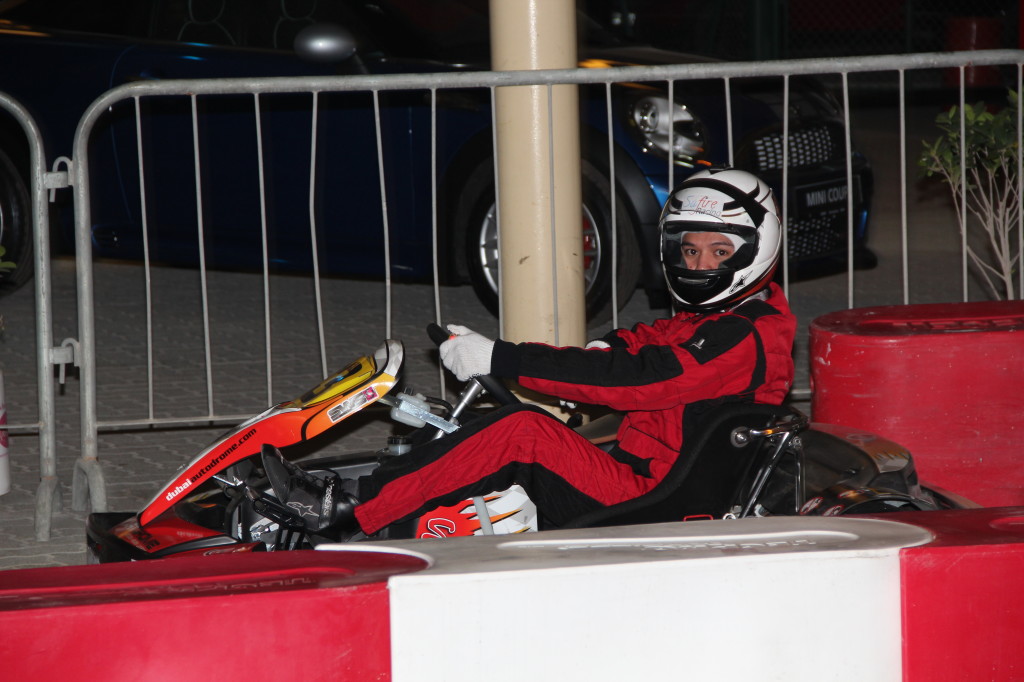 19.46
The competition is clearly getting more intense every round! Alex has just finished his shift with the kart …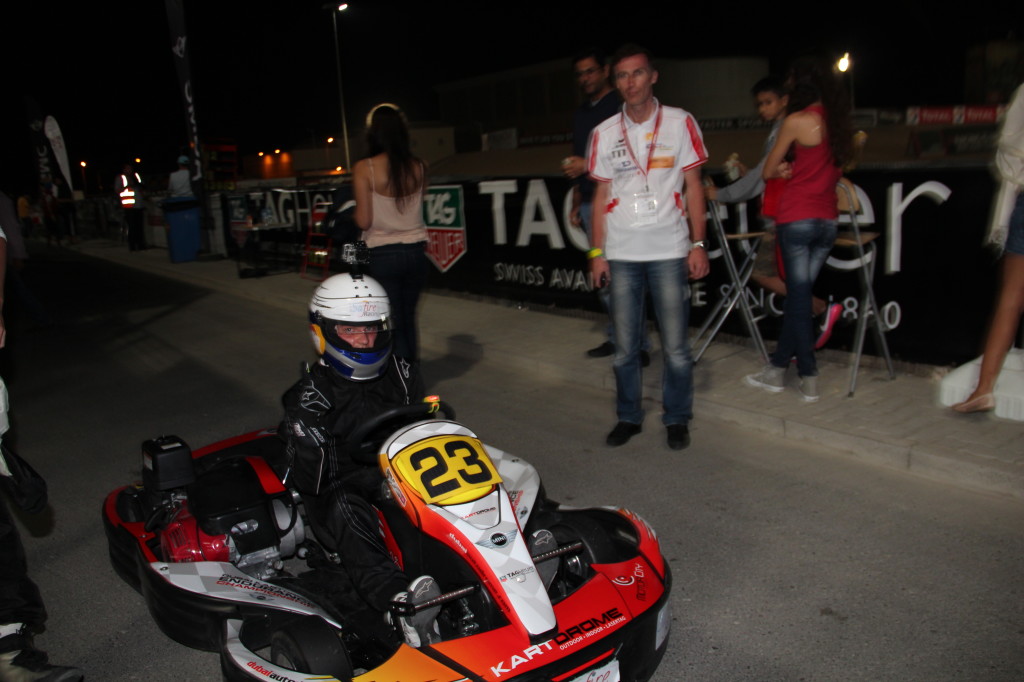 18.46
The sun sets and the track is getting cooler…..we expect better lap times and a better position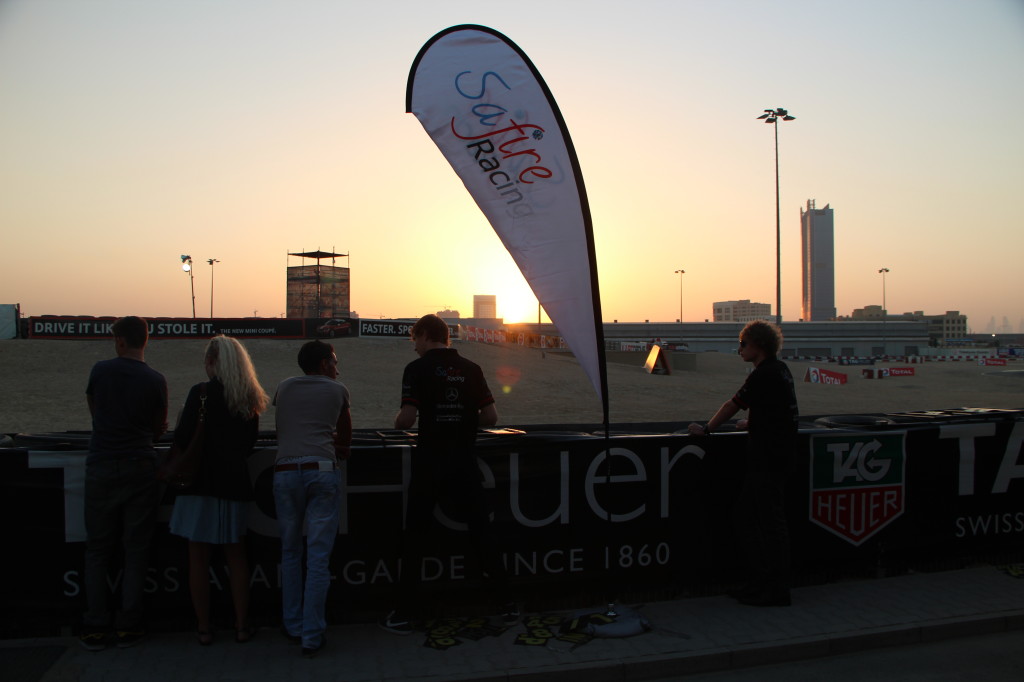 18.39
We are back at 17th….we will strike back 😉
18.31
drive through penalty….we lost 2 mins….
18.07
a head to head competition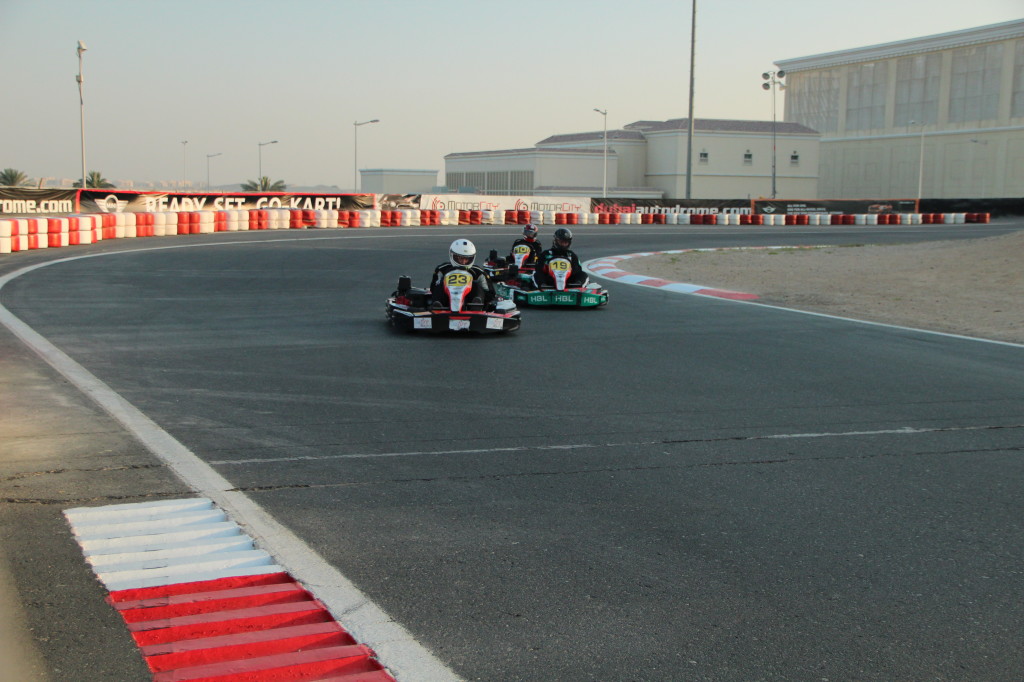 17.57
An unbelievable recovery…..position 11….pace is really good
17.47
Pit Stop…Drivers changed….13th position…..lap times are 1.13.8
16.40
Position 9……amazing lap time in a row !!!!!!
16.35
Safire Racing Team is pursuing Team Emirates….
15.14
12th position….we keep on going 🙂
15.07
The Team is doing a great job……13th position…..keep going !!!!
14.16
Good times coming in. We're placed 16th at the moment.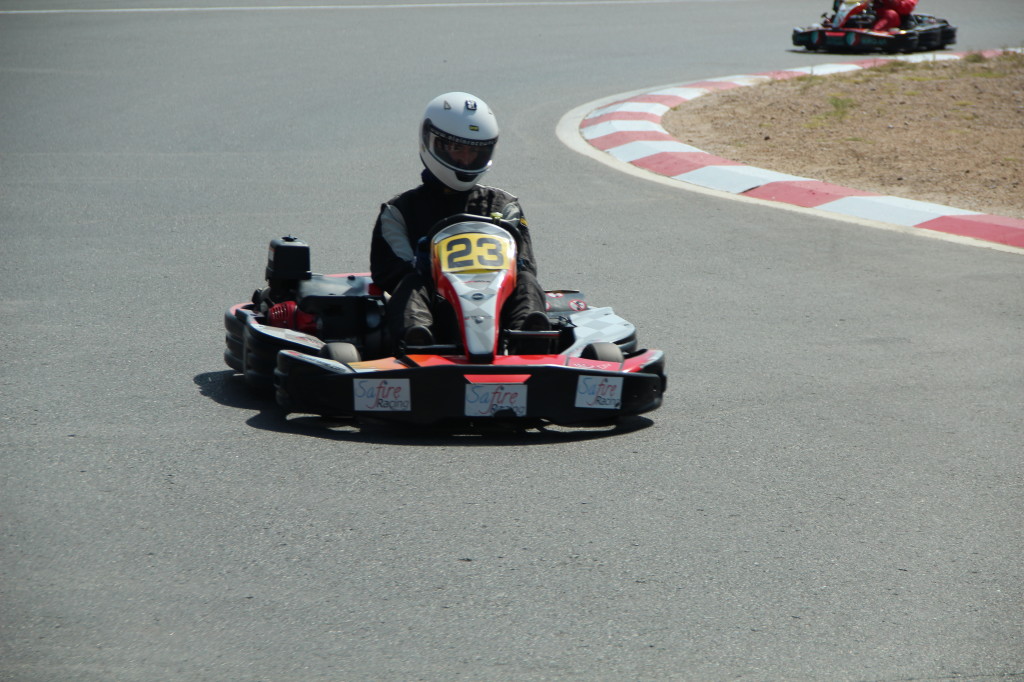 14.10
14.05
The race has started!
13.43
By the way, we're also posting a bit on our Facebook page and Instagram.
http://www.facebook.com/safireracing
http://www.instagram.com/safireracing
13.27
Qualifying is complete! Safire Racing will be starting from 16th place at the official start of the Dubai Kartodrome 12h Endurance Championship at 2PM.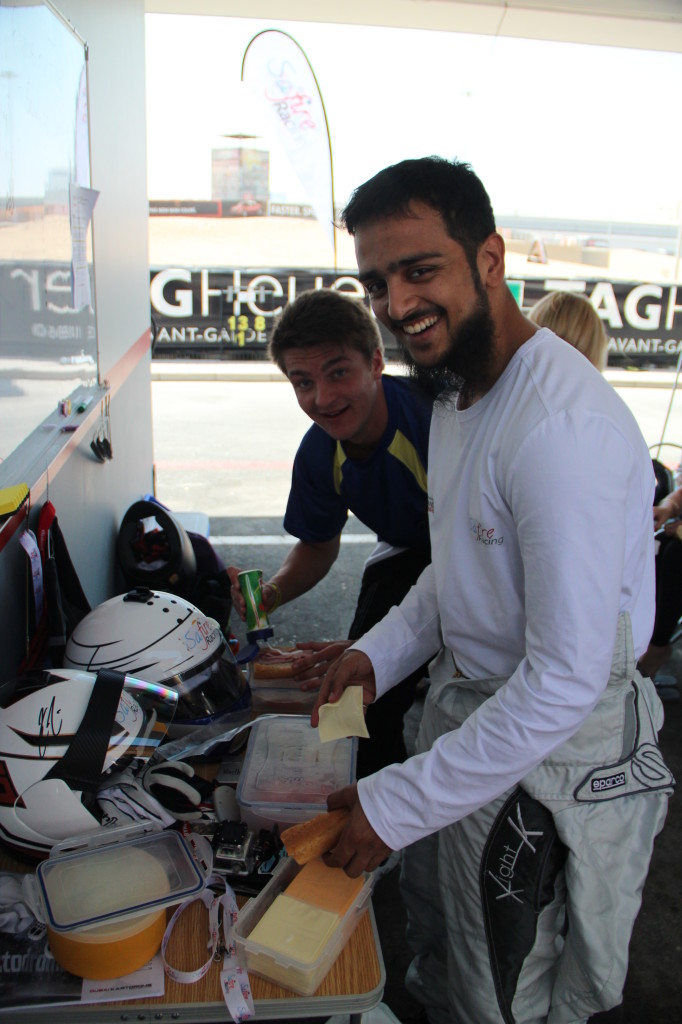 13.06
Practice is done and the qualifying has just begun! Don't you also think our kart is simply beautiful?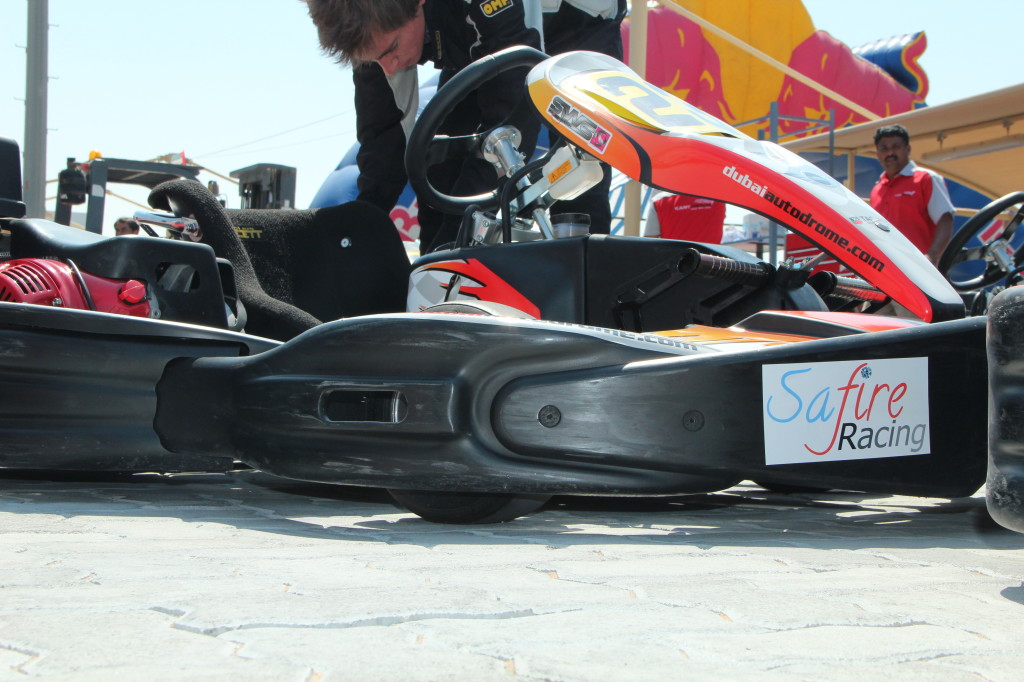 12.32
Practice runs are underway and the Safire Racing team is doing great!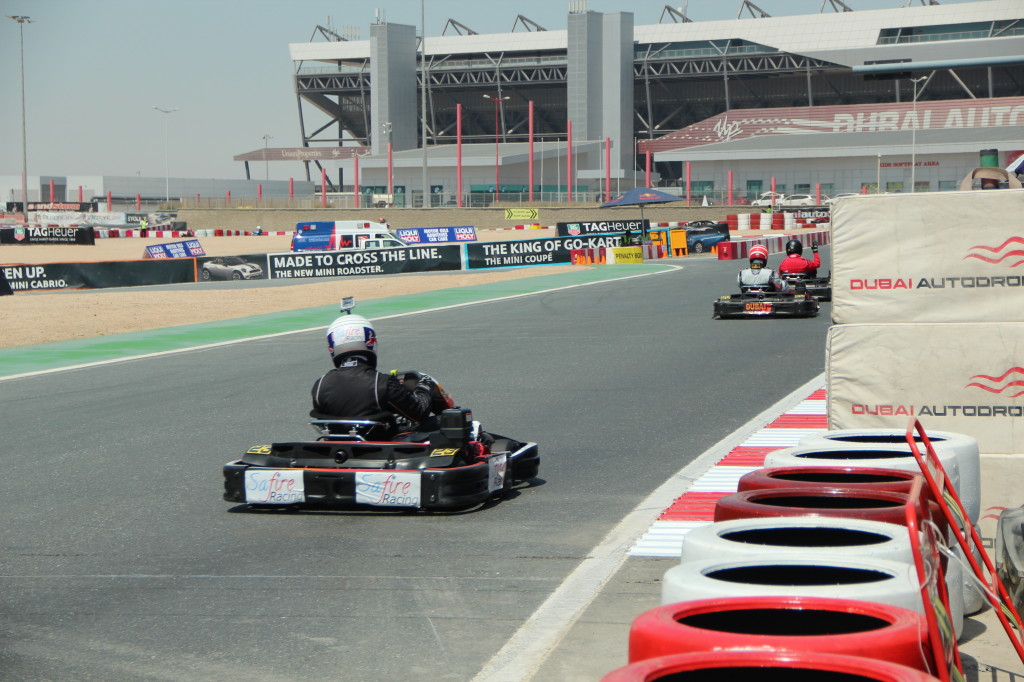 11.51
Practice Race is running well! We've got some good times on our screens. 🙂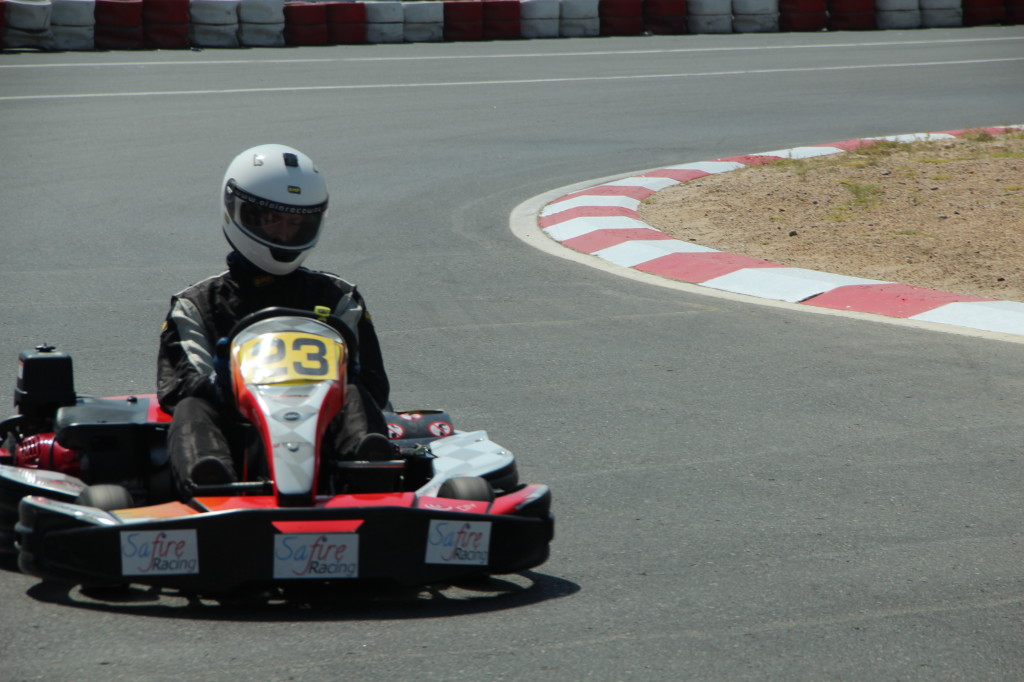 11.36
This our proud team of four experienced kart drivers competing today! Wish them luck!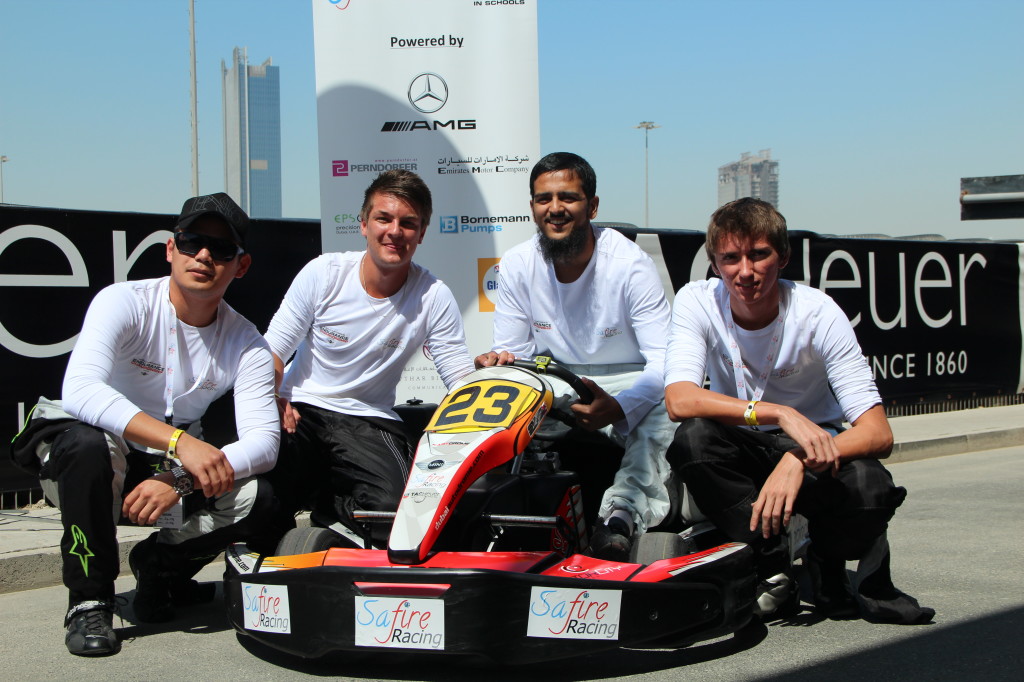 11.29
Alright, finally we've got the Internet working.
I'm Chris, System Administrator and previously Head of IT and Communication in the 2012 Safire Racing Team. I'll be keeping you updated here most of the time today, together with some others.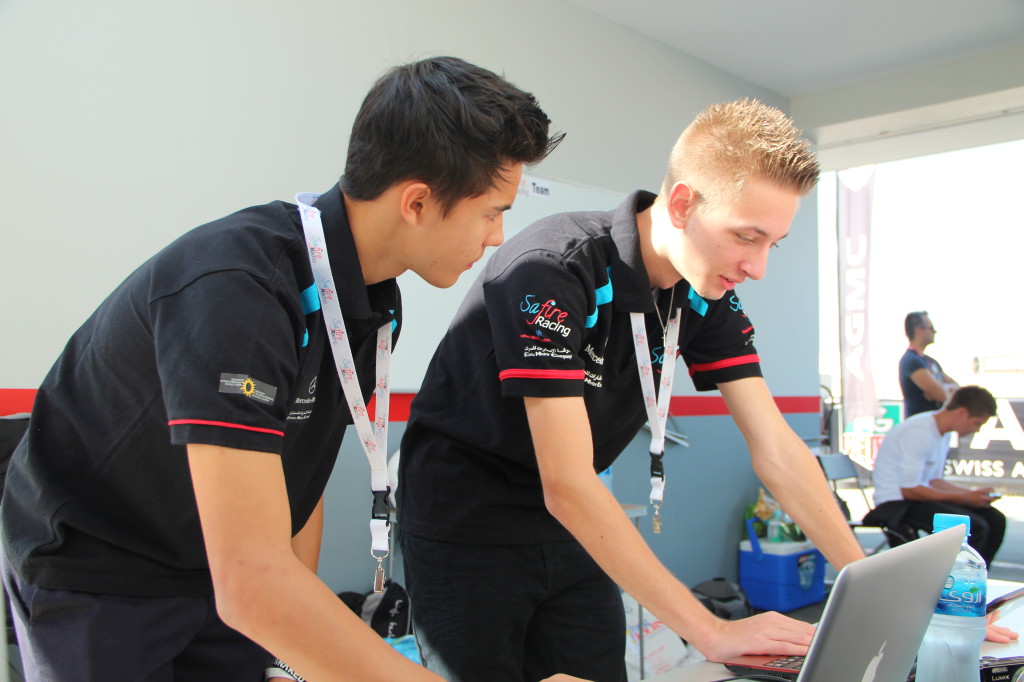 09.42
Good morning! We're setting up all the wonderful technical equipment for keeping you updated on this spectacular event. We'll be coming back to you as soon as it's all done, and we'll keep you updated for the whole 12 hours of the race.