Everybody's back from summer holidays and the Safire Racing team is getting ready for the F1 in Schools World Finals 2014 in Abu Dhabi, coming up very soon.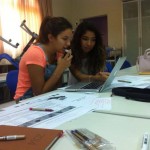 The coming weeks and months will be very exciting for us as a team, and of course for you, as our fans, as we have exciting things coming up before the World Finals actually begin, including the presentation of our new and best car ever for the Worlds 2014. Nothing more shall be said just yet – stay tuned to our Facebook page for the latest news.
During the summer holidays, we took our SR05 on a trip to Germany and let you guys guess where the pictures were taken. Here's the solution:
Once again, we want to thank everybody, who has supported us until now. We think the World Finals 2014 will be the most awesome Worlds we have ever had, and have a clear goal: becoming F1 in Schools World Champion 2014.